Global Demand For Military Dictator Museveni To Investigate Torture Of Zaake, Legislator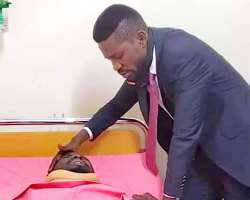 Bobbi Wine visiting Zaake at Lubaga Hospital
Demands for an investigation by Uganda's donor countries into the brutal torture of opposition member of Parliament Francis Zaake continues with both the U.S. and the E.U. weighing in. As previously reported by Black Star News, Zaake was tortured by military dictator Gen. Yoweri Museveni's secret police after he had distributed food to his starving constituents from his home.
Ugandans face starvation due to the strict Covid-19 lockdown imposed by Gen. Museveni. Yet, unlike the wealthier industrialized countries that have also imposed lockdowns Uganda—as with other African countries—doesn't have the social safety net to support people with sustenance during this period of unemployment.
Museveni, who has ruled since seizing power in 1986, is also playing food politics, with an eye toward next year's election. Zaake, who is 29, represents the new generation of leadership operating under the People Power umbrella, whose most recognizable figure is also a member of Parliament, Robert Kyagulanyi, a.k.a. Bobi Wine.
More than 80% of Ugandans are aged below 35. Gen. Museveni is believed to be anywhere from 75 to 80 years old. It's widely expected that a People Power coalition would soundly defeat Museveni in next year's polls. Museveni wants to earn political capital by becoming the sole distributor of food in Uganda during the Covid-19 lockdown. He reacted brutally when Zaake, responding to appeals from his starving constituents, distributed rice and sugar, at his own expense.
Zaake remains at Lubaga Hospital in Kampala, the capital, in severe pain, hardly able to speak, with bruises and abrasions on his face, his arms, his side, and his legs. On April 30, Christopher Krafft, the U.S. Deputy Chief of Mission in the U.S. embassy to Uganda tweeted: "CDA Krafft had a constructive discussion with Ugandan gov officials on the need to fully investigate allegations that security services tortured MP Zaake, & hold perpetrators accountable."
The tweet added, "Measures to stop the spread of COVID-19 can & must be enforced w/out violating human rights."
Separately, the head of the European Union (EU) Mission to Uganda, Attilio Pacifici had earlier tweeted: "The EU firmly opposes torture & other cruel, inhuman or degrading treatment."
"We are very concerned about reports of HR violations of people arrested during #COVID19 lockdown, including MP Zaake & Rukirabashaija.." The other reference—Rukirabashaija—is to Kakwenza Rukirabashaija, an author and activist arrested by the military police. He wrote "The Greedy Barbarian", a book that criticizes the ruling first family. His arrest has been condemned by Amnesty International.
Museveni's military dictatorship wouldn't survive without the financial support from the E.U. and the U.S., in addition to the weapons and training from Washington. Since 2017 the E.U. has provided $150 million to the regime. The U.S. provides nearly $1 billion in total annual aid.
Zaake was detained on April 19 by Gen. Museveni's security agents. He is believed to have been kidnapped by elements of the Internal Security Organization (ISO) and Chieftaincy Military Intelligence (CMI).
The regime continued to humiliate the torture victim by producing Zaake, semi-nude, in court on a stretcher with the bruises on his body in clear view. A judge refused to hear the charges against him and ordered that he be provided medical treatment. So far, the Ugandan Inspector General of Police, Martin Okoth Ochola, or leaders of the other security agencies haven't issued a statement about Zaake's torture.
Fred Enanga, a police spokesperson said, "We remain committed to actively investigating all allegations of torture reported against our officers." This is the kind of nonsensical statement typically issued. There has never been any subsequent investigation of numerous past cases and no one has been held accountable. Both Bobi Wine and Zaake were first arrested and tortured by Museveni's security agents in 2018 when the crop of young leader emerged into prominence.
Human Right Watch has also called for an investigation. "Police brutality is always prohibited, pandemic or no pandemic," said Oryem Nyeko, Uganda researcher at the U.S.-based organization. "Uganda's authorities should urgently look into these allegations and hold those responsible to account."
Meanwhile, Bobi Wine, who visited Zaake in hospital issued a statement on Instagram that read: "The evidence of torture on comrade Hon. Zaake's body is depressing. This video is recorded fourteen days after he was brutalised…One wonders why security operatives would do this to anybody, let alone a Member of Parliament!" The short video that accompanied the post showed the bruises on Zaake's body.
Bobi Wine also wrote, "And let us keep this evidence. In the years to come, our children will watch and see these things. They will study about how a brutal dictator ruled over our country and treated his opponents this way. Hopefully, they will also study how a tired nation came together and got rid of the dictator, throwing him on the dustbin of history like all others who came before him."
Nicholas Opiyo, a prominent human rights lawyer in Uganda, during an appearance on a local radio program said Zaake was "severely tortured" and added: "When I met him, his face was swollen, his eyes could not see, and he spoke with a lot of difficulties…"
(Source: https://www.blackstarnews.com/global-politics/africa/uganda-global-demand-for-military-dictator-museveni-to).