Niger Delta Group Loses Faith On NDDC's Forensic Audit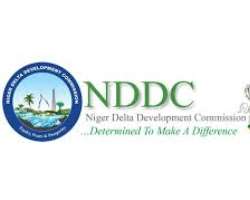 Mr. President, maybe should you know that the Minister of Niger Delta Affairs, Godswill Akpabio, who never played any role, never contributed and was not known in the struggle of Niger Delta, such a person can only be interested in his personal pockets to the detriment of the region, National Coordinator, Niger Delta Integrity and Development Group (NDIDG), Comrade Ebiye Johnny, has said.
Comrade Johnny, in a press statement Saturday, said that Mr. Godswill Akpabio as a former Peoples' Democratic Party (PDP) Governor of Akwa-Ibom State from 2011 to 2015, during which period the Niger Delta Development Commission (NDDC) was controlled by PDP-led Presidency.
"About same time, Godswill Akpabio was Chairman of PDP Governors Forum, an illegal forum made so powerful more than the Nigeria Governors Forum.
From 2011 to 2015, under the PDP-led Presidency, all PDP Governors in the nine states that made up of NDDC, virtually nominated appointees into the Board of NDDC", he revealed.
The immediate substantive Managing Director (MD) of NDDC, Nsima Ekere, from Akwa-Ibom was a political son of Godswill Akpabio, who later became Akpabio's annointed APC Governorship Candidate in 2019 Governorship election in Akwa-Ibom State.
While expressing sadness that the audit has crashed, Johnny hinted: "Mr. President, if Godswill Akpabio was able to mislead you to approve an illegality such as IMC, same Akpabio will also manipulate the forensic audit to protect or cover up whatever deals or transactions that may have been committed by persons he nominated into NDDC board between 2011-2015.
"And beyond, and also protect his PDP friends who are contractors to NDDC", he allegaed.