COVID-19 Palaver: Borno Loss 7 Notable Personalities in April 2020 (Photos)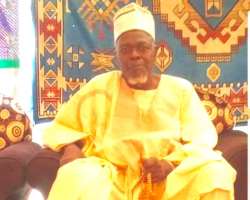 Goni Habib of Abujan Talakawa
History will not forget the month of April 2020 in Borno state when mysterious tragedy of multiple deaths struck the state in even almost one with the death of notable personalities, including high profile personalities like the former Chief of Staff to President Muhammadu Buhari, Late Alhaji Abba Kyari who hailed from Bama LGA of Borno state and his late father, a traditional title holder, the Galadima of Yazaram District of Dikwa Emirate.
The father of a three time Senator of the Federal Republic of Nigeria and two time former State Govenror of Borno state, Senator Ali Modu Sheriff in person of Alhaji Modu Sheriff. He was the notable and renowned traditional title holder and business mogul, the Galadima of Dikwa. A high profile contractor and supplier with national and international repute who lost his life as a result of fire outbreak at his residence in Maiduguri.
Late Goni Modu Goni Kolo
Others include the Borno State first republic State Gobernor and political stalwart and examplary leader per excellent, late Alhaji Mohammed Goni Who was known for his leadership quality, transparency, accountability, honesty, simplicity and humility. He was as an elder statesman that transformed Borno state into a regional small London with basic infrastructures across the nooks and crannies of the state. The infrastructure he built have stood the test of time since early 80s to date.
The late 11th Shehu of Dikwa and first Emir of Bama, HRH, Alhaji Kyari Ibn Umar Ibn Ibrahim Al Amin El Kanemi was also a great loss to the state and the nation at large. A respected and dignified royal father who Distinguished himself in many spheres and stood behind his subjects thoughout the insurgency of Boko Haram when Bama town was taken over and declared caliphate of the Boko Haram Insurgents before the military reclaimed the town and it's environs.
Late Goni Habib of Abujan Talakawa
He was related to the former Chief of Staff to President Buhari and hailed from the same district. He formally recieved condolences for the former Chief of Staff to the President, Alhaji Abba Kyari at Ajiya house in Maiduguri throughout the mourning period as a first class Emir of Bama.
A member of the Borno State House of Assembly (BOSHA), representing Nganzia LGC State Constituency, late Alhaji Wakil Bukar also passed away after a brief illness at UMTH Maiduguri during the month of April 2020 . He was also a.notable politician and businessman.
Late Alhaji Sheriff Gudumbali
A renowned retired class teacher, headmaster and popular Principal of Government College Maiduguri who was known as a disciplinarian and transparent fellow , a mentor and master to many, Malam Ibrahim Daushe also died within the month of April 2020. He was said to have died after a brief illness. Some of his former students are Senators, House of Representatives members, LGC Chairman, State Commissiomers, Medical Doctors , Engineers, State Govenrors, Senior Military Officers, Directors, Chairmen of Boards and Parastatals among others.
Sheikh Mohammed Abdullahi of New GRA Maiduguri also died within the period after a protracted illness. He was known for his Islamic propagation prowess and teachings of Prophet Muhammadu (SAW) doctrines and injunctions.