FREE AND FAIR ELECTIONS IN NIGERIA IS POSSIBLE…ONCE AGAIN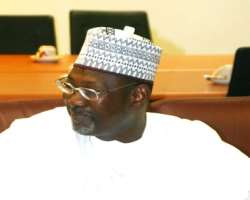 PHOTO: CHAIRMAN OF THE INDEPENDENT NATIONAL ELECTORAL COMMISSION, INEC, PROFESSOR ATTAHIRU JEGA.

The June 12 1993 Election is held as the freest and fairest Elections so far in Nigeria. Can this fit be repeated ever again in Nigeria? Commentaries on the forthcoming elections in 2011 indicate that we as a nation are once again at a crossroad of destiny. Mr President His Excellency Dr. Goodluck Ebele Jonathan GCFR, has been very forthcoming on his 'every vote will count' position. There is the 'one man one vote slogan'- One wonders if the women are excluded. There are a cacophony of voices calling on Nigeria and Nigerian to get it right this time around.

A positive step is the emergence of Prof. Attahiru Jega, the activist academician to the helm of affairs of Independent National Electoral Commission INEC. He in his words to the Senate during his nomination confirmation screening is on a mission to deliver the 'freest and fairest elections' a task he considers as the greatest challenge of his life. The INEC whose leadership Prof Jega is assuming shortly is described by Ex-Governor Asiwaju Bola Ahmed Tinubu recently as lacking in 'accountable, effective and workable system and mechanism that can guarantee credible elections next year'.

An analysis of all the elections held so far in Nigeria will reveal the twin unique characteristics that made June 12 extra-ordinary are its transparency and simplicity. Option A4 is an electioneering system and mechanism that was centrally people oriented. If the success of June 12 is to be repeated, 2011 elections must be people oriented as well.

Prof. Jega rightly mentioned putting in place a credible voters' register as his first assignment in INEC. Every politician knows that election rigging starts with the voters registration exercise. While June 12 election had so many prior voters registration exercise under Prof. Nwosu to update and present a credible voters register, Prof. Jega will have no such opportunity. Prof Jega lead INEC voters registration 'system and mechanism' must therefore be right on point on the first and only attempt before the 2011 elections. In adopting a people centred rather than politician centred approach to voters' registration, the exercise is better served when it is taken to the people rather than wait for the people to come to it. In this sense, our Churches, Mosques, Town-halls and Palaces, Schools, Markets and Hospitals/Clinics are very popular locations in every Nigerian community. Voters registration exercise carried out using these chief places of concourse already integrated into the activities of daily living of voters would serve for enhanced access and boost to the process.

The second issue that Prof. Jega touched on which is of interest is the manning of INEC and Elections. Quite frankly, the system and mechanism of manning elections in Nigeria will require a paradigm shift. Experiences have shown that the corrupting of Electoral Officials is helped by the process of recruitment and the calibre of people recruited for this assignment. With the level of poverty in our society and the perception of the political class by the generality of those recruited, an overall enabling environment for election rigging is created. Apart from the internal reorganisation promised by Prof. Jega, it has become necessary for INEC to recruit Electoral Officials through such professional bodies as NBA for Lawyer, NMA for Doctors, COREN for Engineers, ICAN for Accountants, CAN for Pastors, NSCIA for Imams, ASUU for Lecturers and such like bodies for people with pedigree and standing in the various electioneering communities. The liaison between INEC and these bodies drilled and distilled down through State and City Chapters will produce very distinguished and credible Electoral Officials for INEC temporary manning needs for elections. These officials can then be supported by Teachers and National Youth Corps Members. The various Security Agencies details are then added to provide the full compliment of manning for elections. This process will ensure that the stakes are higher for Electoral Officials as any wrongdoing has both professional and communal consequences in addition to the legal consequences thereto.

The third issue requiring attention under this system and mechanism for free and fair elections is the Logistics for Elections. This is the process of obtaining voting materials, moving them to various voting units and the return of both used and unused voting materials back into INEC custody all the way through to the declaration of results. There is the need of a change in strategy as commentaries and previous methods are yet to capture what is required. There are tried and tested processes in Nigeria that have delivered in similar circumstances. The West African Examination Council WAEC, National Examination Council NECO, Joint Admission and Matriculation Board JAMB, and indeed the Nigerian Banking and Financial System with Nigerian Mint and Security Printing Company and Central Bank of Nigeria CBN have delivered in their various spheres.

The mentioned Examining bodies have delivered and will continue to deliver on the conduct of examinations in Nigeria. The obtaining of examination materials, the distribution of same, the conduct of the examinations, the receipts of students' answers for marking and grading and the release of the results are all held under very strict conditions embedded in a layer of security to assure integrity of the process for the credible and continued dependence on the results released by these bodies and institutions as true assessment of the standing of candidates who sat for these examinations. Same structures attend our financial system with financial instruments moving across the nation that supports our various economic activities on a daily basis.

What INEC under Prof Jega should do is to enter into a relationship with these institutions with a view to buying their tried and tested channels and framework to obtain, distribute and retrieve electoral materials in the conduct of 2011 elections. The Nigerians who are involved in these highly successful organisations in this regard are available to serve the needs of INEC for an effective, secured, and credible voting process. Quite clearly between the Examining Bodies and the Banking Industry the whole nation can be effectively covered to enable prompt voting on election days and prompt release of results.

The final issue to be considered under system and mechanism for a free and fair election by Prof Jega INEC will be the one on Election Technology. There are issues on electronic voting systems to be used being discussed. System automation from systems point of view requires a virile manual system for the automation to be effective. INEC manual system will therefore have a ballot provision for all registered political parties and independents when the new electoral law is passed. This will make for about 50 to 60 voting slots on the ballot in 2011. Using a simple design for Objective questions answer sheets, the ballot paper will then be marched with the voters register tied directly to voting units of between 200 and 500 voters as the case may be. In this sense, where there are 200 voters, there are 200 ballot papers with the name and other details of the voter as supplied in the register imprinted on the ballot paper.

Provision is made for thumb printing, with serial numbering and possibly bar-coding. The 5 positions of President, Senate, Representatives, Governor and Assembly Members are provided as columns in front of a principal column that captures the Political Parties/Candidates and their symbols. The voter is expected to make a choice under a designated column in front of the party/candidate row. This design is akin to that used for both primary school leaving certificate and common entrance examination in primary schools which the Nigerian Mint and Security Printing Company can deliver.

On Election Day voters obtain their ballot papers with their names on them, thumbs print them and vote for the party/candidate of their choice. With a positive logistics arrangement as the one suggested above, ballot papers should arrive every voting venue by 10am on Election Day. Elections should be over by 2pm, with counting ending by 4pm and results declared at the latest of 4.30pm. All ballot papers are then collected and returned back to the issuing point as worked out under the logistic framework advanced above. All Electoral Officers in the position of Returning Officers are then to make returns from voting units to ward levels and then to Local Government Area Returning Officers who are to relay their results to State Returning Officers and onwards to National Returning Officer. All Ballot papers, both used and unused should make their way to the state designated repository for custodianship towards the resolution of election dispute. Whatever automation desired can be applied to any of the area of the voting process.

The foregoing will be an answer to Asiwaju Bola Tinubu desire for a system and mechanism that will guarantee a free and fair election by INEC come 2011. Prof Jega as an academician has the intellectual capacity to work through all the details highlighted above in the 5 key areas of Voters Registration, Manning of Elections, Election Logistics and Election Technology to deliver the 'freest and fairest election in 2011. Prof Attahiru Jega can deliver….Let him give us free and fair elections….once again.
Disclaimer:

"The views/contents expressed in this article are the sole responsibility of the author(s) and do not necessarily reflect those of The Nigerian Voice. The Nigerian Voice will not be responsible or liable for any inaccurate or incorrect statements contained in this article."
Articles by thewillnigeria.com