...TO SERVE NIGERIAN BY FORCE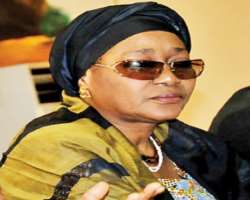 PHOTO: EFCC CHAIRMAN, MRS. FARIDA WAZIRI HAS SUGGESTED THE DEALTH PENALTY FOR CORRUPT PERSONS UPON CONVICTION.

"Monkey no fine but im mama like am" Nigerian saying
As we approach 2011, the tempo of activity on the political terrain by our Nigerian leaders seems to be on the rise. As if that was not bad enough our now "super chickens" formerly super eagles fumbled out of the World Cup. And for reasons best known to the Kaitas, Aiyegbenis, Kanus, NFF and Lager-beers of this world.
It also equally difficult to quantify in monetary terms the amount of money that went into our two weeks participation in the fiesta. With scores of legislators, their girlfriends and concubines all part of the party in our traditional squander mania style.
Despite a veiled denial by Steward Dora and what at best I see as an attempt at accusing a dead man, we still don't know how much will go into a one day event in the name of marking our golden jubilee celebration.
As it stands it is still 10 Billion Naira for the 'owanbe' party in a nation that hardship walks in broad daylight.
At burningpot.com (an online medium) it decried how the House of Representatives resorted to Karate on the same day the super chickens in South Africa were being dealt by the Koreans to the delightful kungfu football.
While everyone has condemned their actions, the PDP has even called them and the progressives as they called themselves suspended. The fact remains that with the millions and billions of Naira at stake for doing nothing, words such as shame, embarrassment, public odium, and ridicule are strange. The nation will continue to be at war with itself.
My colleague and one-time fellow editor at Leadership Newspapers, now with Thisday Emmanuel Bello, sent this to me "Obama earns about $400,000 per annum and then Mark gets some 1.2 Million per annum as principal that does nothing". Any doubts regarding why we are doomed? I don't believe we are doomed, I only see reasons why I must serve my nation and I insist MUST, BY FORCE...serve Nigeria!
Courtesy of my friend and brother Baba Adam..."Current Nigerian Senator's benefits or allowances is N48 million per quarter X 4 quarters = N192 million per year [US$1.28 million per year]. That is currently a Nigerian Senator earns 7.36 times their U.S. counterparts!
The Nigerian Senators want their allowance to be increased to N95 million per quarter X 4 quarters = N380 million per year [US$2.53 million per year]. That is US$10.13 million in 4 years! Hhhhmmm...for the 90% of Nigerians, no clean drinking water, stable electric power, basic education, dependable health-care, productive employment, social security for the elderly, public security, good roads, etc..
In 2008 Nigeria allocated N60 billion [$400,000,000-- four hundred million US dollars] for Senator's and House of Representative member!"http://www.nigerianmuse.com/20080218080553zg/nigeriawatch/FG_to_spend_N60bn_on_Senators_Reps_annually
Below is Nigerian Senator's minimum wage... you can call this the high cost of bad governance
1. Basic Salary 2,484,242.50
2. Furniture Allowance @ 300% 7,452,727.50
3. Newspaper @ 50% 1,242,121.25
4. Wardrobe @ 25% 621,060.63
5. Recess @ 10% 248,424.25
6. Accommodation @ 200% 4,968,485.00
7. Utilities @ 30% 270,024.55
8. Domestic Staff @ 75% 1,863,181.88
9. Entertainment @ 30% 745,272.75
10. Hardship Allowance @ 50% 1,242,121.25
11. Constituency Allowance @ 200% 4,968,485.00
12. PA @ 25% 621,060.63
Total 26,727,207.17
Wow - by the way last year the Nigerian Senator's passed 'WHOPPING' thirteen [13] Bills-- http://www.champion.com.ng/index.php?news=32577
Currently - Nigeria have messed up priorities. In 2008 the Nigerian government allocated N8.3 billion [$55,333,333 -- fifty five million dollars] for research at all the tertiary institutions -- http://www.punchontheweb.com/Articl.aspx?theartic=Art200802181475334
Note in 2005 USA universities spent $45.8 billion -- http://www.nsf.gov/statistics/infbrief/nsf07311/ -- thus USA institutions spend 828 times on research! India and China also spend billions on research -- http://www.rpi.edu/president/speeches/ps090603-china.html
"The House received N11 billion for 2008 and 2009 and expended N9billion. A majority of House members have no clue on details of the expenditure purportedly made from this colossal sum. The Speaker authorized a spurious, vexatious and reckless expenditure profile at a time when there is so much economic hardship, massive unemployment and neglected infrastructure in the country."
"On May 28, 2008, the Speaker and the Body of Principal Officers approved the purchase of four units of Range Rover (V8) Jeeps, three units of Mercedes Benz S-600 cars for the use of the Speaker and his Deputy costing N335, 500, 000." And you say it is not sweet to serve Nigeria?
Members of the lower House bought for themselves LCD 40 Samsung LNS 341 at N525, 000 per unit. Multiply that by the 360 members and you tell me that we are still not suffering 'gowonoria' a disease that started during the Gowon era...too much money, problem of how to spend it.
Dressed in their blue and white uniforms, some 75 students of the City Royal Secondary School (CRSS), Nyanya in Abuja watched in silence as representatives fought themselves, often rising from their seats, and at other times craning their necks to witness the rowdy session.
They were wide-eyed, stared at themselves, and dumbstruck all through. They watched as their leaders fought not because of providing good roads, not because of improving the health infrastructure, not as a result of a collapsing educational system but because the loot did not go round.
One of the kids reportedly asked a Journalist "Sir, how much is 9Billion Naira"? One can only imagine what was in the child's mind.
We live in dangerous times in Nigeria, but very few people really care, in Ogun state it's 30 billion, in Plateau State, some N6 billion frozen by EFCC secretly, in Lagos, two years after it was reported a portion of the over N5 billion LASU-Iba road built by the Lagos State Government collapsed. In Kano, the governor's anointed was recently guest of EFCC. Everywhere you turn in the entire nation its stealing and thieving galore, you begin to ask, so what is EFCC really doing?
As an observing guest, Jonathan is in Canada with some 140 aides, even 50, is it not crazy? My answer is no, infact he should have gone with the 36 governors their deputies, all the Ministers and the entire National Assembly, after all to serve Nigeria is by FORCE!
To serve Nigeria is by force, it is lucrative, you steal without a single shot fired, and you can be rest assured after some noise everyone forgets.
Like the Sanusi Tsunami, now forgotten, all the Ibrus, Erastus of this world somewhere chopping their monies. The UK is more determined at getting Ibori than we are. IBB, making all sorts of noise, the north preaching morality, Jonathan, hiding under the garment of sensitivity of the polity, we just make noise and gradually we shut up—an easily excitable people!
With over 50 political parties, everyday, everywhere it is PDP against PDP. After 11 years of democracy, it's been motion without movement. We have been covered by an umbrella that best depicts everything that is wrong with our society.
I have desisted a long time to speak plenty grammar when discussing the Nigerian malaise, not because I don't know how to go isms, and zun, tun zi, but because I believe that our problems are not the worst and we can surmount it if we want to, but sadly a small minority and thieving class is bent on frustrating change. Monkey no fine but im mama like, no place like naija. We shall overcome one way or the other, Insha Allah!
 
Disclaimer:

"The views/contents expressed in this article are the sole responsibility of the author(s) and do not necessarily reflect those of The Nigerian Voice. The Nigerian Voice will not be responsible or liable for any inaccurate or incorrect statements contained in this article."
Articles by thewillnigeria.com