Ohafians Condenm The Murder Of Late Mr.friday Ifeanyi Arunsi By Police.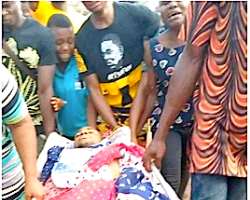 The Ohafia Improvement Union Incorporated, an umbrella body that shelters all Ohafia indigenes for the peace, progress, unity, harmony and strengthens bond of fraternity among individuals and the component towns and villages in Ohafia, has condemned in very strong term the gruesome murder of a young man of the clan, late Mr. Friday Ifeanyi Arunsi, on Friday last week, at Ebem Ohafia in Ohafia Local government area of Abia State
In a press Statement signed by the Secretary General of the Union Hon. Richard Agwu and the President General Elder Ukpai K.Ukpai and made available to Pressmen, the Union called on the Nigeria Police to investigate and unravel those behind the murder of Friday Arunsi and other killings in Abia State to prevent a future occurrence of such dastard acts and prosecute the cop involved in the heinous act, who has been arrested.
According to the release, "the murder of late Mr. Friday Ifeanyi Arunsi is the latest and the fourth of such killings in Abia State by security agents since the state government announced the lockdown in the state to checkmate the COVID -19'.
The release further said that information has it that Friday was murdered by a drunken trigger happy cop, Mr Kingsley Odogu, one of the three policemen who were not even on duty, but on a drinking spree in Ebem Ohafia.
The statement revealed that although several other Abians and indeed Nigerians have been murdered in such gruesome manner as late Mr. Friday Arunsi, the latest gruesome murder of a promising, humble and committed young man of Ohafia clan in Abia State, brings to the fore the major threat to the security system in our country
The statement describes Ohafia people as being rooted in decency and have been having robust relationship with security agencies for decades and therefore, regret the mayhem associated with the murder. "It is therefore not a figment grovel imagination that the frequency of police motivated killing in Abia State seems to be associated with the weakness inherent in the mixing of bad eggs in the system." it added.
They thanked the Abia State governor, Dr. Okezie Ikpeazu for sending a high powered delegation to Ohafia led by the deputy governor, Rt. Hon. Sir Udo Oko Chukwu, the Ohafia LGA TC Chairman, Chief Fred Eke Idika, Hon, Uko Nkole and Rt. Hon. Ifeanyi Uchendu for dousing the tension that followed the gruesome murder of Friday Arunsi and their support to the other four wounded sons and a daughter of Ohafia recuperating in the hospital..
"We passionately appealed to all Ohafia youths to continue to be law abiding and go about their normal business to eschew further violence with the hope that justice must be done in this respect." it concluded.