HOPe Africa Renounce Melinda Gates, others  Covid-19 Statements against Africans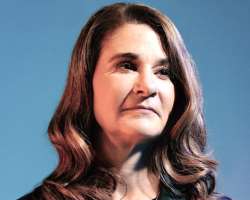 The founder of HOPe Africa, Mr. Francis John has renounced the statement of Melinda Gates Covid-19 outcome, Africans will be dying and throwing dead bodies on the streets. See the source statement and video: https://www.youtube.com/watch?v=qSVse07y2O4&feature=youtu.be
Watching and listening attentively; these are racist comments without proffering solutions and they never had, as such African Nations, governments and the populace must begin to censor such statements and hold folks accountable for their actions. Restrictive censoring is also applicable to Facebook, WhatsApp, YouTube.
Over the years, history, confessions and ignorance has made it possible in the unveiling when and how Africans are treated as second-class citizens, and vaccines guinea pigs, recently proclaimed by 2 top French doctors on live TV that coronavirus vaccines should be tested on poor Africans, leaving viewers horrified - atfer all most herbs turned into medicine are from Africa https://youtu.be/Jo4SmnKLQLw and renounced by Director-General of the World Health Organization (WHO) Tedros Adhanom Ghebreyesus, https://twitter.com/malonebarry/status/1247275945632968705
The Chinese inclusiveness in racism is getting out of hand: Chinese Attack Africans In China, Blame Them for Return of Covid-19 https://youtu.be/ver1cZUKdYA. Pending comments from African Governments.
It should be clear to the black populace, whatever contributions from foreign governments, philanthropist like the Bill Gates Foundation is a peanut, as to the continues damages incurred by the blacks regardless of their locations.
Posterity is alive and will not forget the consistent promotion of hidden agendas, donations, products or services. Behind all these are terrible consequences.
Some tips for Africans independence are:
· Africans must start cutting down accepting donations, using products and services from racist personalities and corporations.
· Step up patronizing each other and begin to build its own products and services using its locally available human resources and mineral resources.
· Start manually and develop on mistakes.
· Reduce substandard goods.
· Commence an Africans Innovation Center and or task engineering departments in Africa universities and polytechnics with a number of projects to leverage from itself from the continuous colonization.
African Diaspora are encouraged to complement each other in all capacity. As such, Diaspora Africans, needs to heed to the clarion calls of the likes of:
1. Kenya activist and scholar of law, Professor Patrick Lumumba calls for an end to rivalry among Africans https://www.youtube.com/watch?v=OF6vzs5PWE0 and
2. Femi Fani-Kayode reacted after Melinda Gates, the wife of billionaire Bill Gates in an interview with CNN warned that if the world does not move quickly enough, there will be dead bodies on Africa's streets https://twitter.com/i/status/1249655326070181895; https://www.instagram.com/tv/B-7NBrNj_QY/?utm_source=ig_embed&utm_campaign=loading
Africans are being restricted or dominated by the powers that be, for the fear of attaining developed status. Coupled with the fact African leaders are bought out for their selfish interest. Otherwise, African Union, governments and stakeholders must renounce Melinda Gates statements and ask the Bill Gates Foundation to provide evidences for their forecast.
In not doing so, good exemplary precedence is not imbedded in African leadership structures. The must challenge events and activities proactively to show true love for its populace, without missing words, by so doing African Americans will complement the continent with overwhelming expertise. In fact, African governments must be seen in the forefront of forming alliances with African Americans and African Diaspora to bring up the continent to its rightful position.
Invariably, if this generation fails, the youths and generations unborn will stand shoulder to shoulder to defend the African continent, regardless of intimidation. It's imperative to remember and reiterate the statement of Late Jack Oshe, a Sainsbury Manager – London in the early 90s, "they have milked the cow, the cow needs its milk back" " I foresee the black folks standing shoulder to shoulder in the city of London challenging for compensation for human and natural resources, equal rights and justice." If in all honesty we need each other as such No man is an island!
Penalties for derogatory statements and actions at Africans, slowly stop buying Microsoft products and start developing indigenous software, Apps such as Facebook, WhatsApp, YouTube, etc. Bill Gates vaccines to Africa must be tested verified by indigenous African Scientist and made open to the entire public. It's not only a government decision, engage the general populace, stakeholders across the continent. By suggesting these, this article is likely to be censored, restricted and limited to sharing. This is the 21st century, no place for racism.
Francis John
HOPe Africa
Kansas City, Missouri.
[email protected]