Delta Governor's Aide Gives Out Paliative To Kinsmen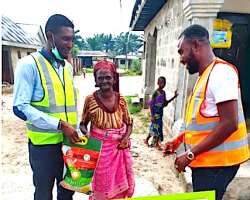 As the stay-at-home order to contain the spread of the dreaded Coronavirus pandemic, continues with its effect, well meaning individuals have yielded to the call to assist the vulnerable.
The Special Assistant on Youth Development to Delta State Governor, Mr. Igbrude Junior Oghale, joined many who have contributed their quota to humanity.
The SA gave out packs of rice and Coronavirus preventive items to people in Isoko north local government area of the state.
The Coronavirus preventive items the governor's aide distributed include plastic buckets with taps, buckets without taps, large hand sanitizers, liquid soaps and packets of tissue napkins.
Mr. Oghale, son of the former Speaker, Delta State House of Assembly, Rt. Hon. Young Daniel Igbrude, donated packs of rice to elderly people and childless adults, to help in reducing the effect of the lockdown declared by the state government.
Recall that the state governor, Dr. Ifeanyi Okowa, had declared a two - week lockdown in state, effective on Wednesday April 1, as part of measures to contain the spread of COVID-19.
The Governor's Aide, explained that the decision to give out the COVID - 19 preventive kits to his people in Isoko north, was in line with Dr. Okowa' s determination to ensure that no case of Coronavirus is recorded in the state.