2011: I'VE NO DOUBT JONATHAN WANTS TO CONTEST, BUT HE SHOULD EMULATE ABDULSALAMI — JIBRIL AMINU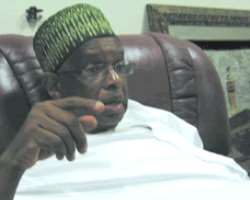 Jibril Aminu
Professor Jibril Aminu, a serving senator from Adamawa State, has joined the debate on whether or not President Goodluck Jonathan should contest the 2011 presidential election.
Giving an insight into what gave rise to the zoning arrangement in the country, Aminu said that the gentleman agreement to rotate the presidency between the North and South was reached in 1998 in the interest of peace and brotherhood. He said that the pact should be respected.
He said that the northern political elite had then agreed, at a meeting in Kaduna, that the South West should be allowed to produce the president.
According to him, the PDP and the All Peoples Party (APP) had ensured that the decision reached in 1998 by the northern elite at the meeting in Kaduna was enforced. That explains why the APP went the extra mile of reaching an alliance with the Alliance for Democracy (AD), he said. He added that this is why two South-West candidates contested the 1998 presidential election.
Aminu said that after eight years of the President Olusegun Obasanjo presidency, Alhaji Umar Musa Yar'Adua emerged as the Peoples Democratic Party (PDP) candidate and eventually the president. The emergence of Yar'Adua, he said, was an expected normal course of events, in accordance with the zoning agreement.
The senator reasoned that the death of Yar'Adua has thrown spanners into the works because the vice president that succeeded him has gained local and international recognition. He asks: 'What do we do with Jonathan? That is the issue.'
According to him, no politician would go into an election if he were not sure of winning the election. He said that although from all indications, President Jonathan would contest for the PDP presidential ticket, the PDP would throw its presidential ticket open to all contestants and the primaries would be exciting.
Aminu said that whoever emerges winner, in the PDP primary, would eventually become president because the party would rally round the person.
He, however, warned that the zoning formula should be respected for the sake of Nigeria's future. Whether or not it would be a betrayal of the North is a matter he would want to leave to individuals to decide.
Aminu, 70, spoke on his relationship with Obasanjo and his disagreement with former Vice President Atiku Abubakar.
What do you say to the controversy over zoning, especially as former President Obasanjo said there is no zoning, while Mallam Adamu Ciroma said it exists?
Zoning is not in the constitution. The only zoning I remember was when we were in the constitutional conference in1994/95, and it was put in the constitution. It was in the constitution of Sani Abacha that did not come into effect. It said that the presidency would rotate between North and South. That was the Abacha constitution. But I believe zoning is in the PDP. I don't see how people can argue about it. This is because I remember, in early 1999, in Kaduna, where those of us leaders in the North sat down and agreed that nobody in the North should contest. We agreed that we should allow the South West to do so for a number of reasons, including the sad case of Moshood Abiola. Also considered were the various things that happened in the South West, like the arrest of Obasanjo. Others, like Akinloye, Akinrinade suffered too. Bolaji Akinyemi left the country as well as many eminent people in the West.
So, we felt that the best way to cool minds was to allow the South West to produce the president. That appeared to have been accepted by the PDP and also APP. You can see the effort they made, when APP merged with another party in order to produce Olu Falae. So, there was zoning and it was on the basis of that that in 2007, the late Umar Yar'Adua was picked. From what is being said now, if you go to Obasanjo, he will tell you that he picked him out of merit. It is quite obvious to everybody that the next president, after eight years in the South, would be from the North.
My own stand on all these things is that if you reach an agreement, you should stick to it. Not only would such make a gentleman, but also it will be in the long-term interest of the country that we do reach agreements and keep them. I will also say zoning has not been completely fair, even to me. But if you start zoning, you complete it. In other words, after eight years of Umar Yar'Adua, plus anybody there, we should be at liberty to cancel zoning. We could say no more zoning. But at the moment, my feeling is that we should not just throw zoning overboard.
Now, what about the other side? The other side is that you have a Jonathan as president. He was elected vice president together with the late Umar and he is there now, as president and he appears to have drawn some recognition and respect inside and outside the country. So, what are you going to do with him? That is a very legitimate question to ask. What are you going to do with him? If only Jonathan would act like Gen. Abdusalami Abubakar, because he (Abubakar) was very popular, especially with the opposition parties and outside Nigeria. He told me the pressure he went through to get him to remain in office in 1999 but he insisted on going.
So, in spite of these pressures, he left. If he wanted he could have stayed.
Now the real issue is what to do with Jonathan, particularly if he wants to contest. And it looks to me very much that he wants to contest. It is an issue for the PDP to settle. I believe debates outside and all sorts of posturing outside will just end up heating the political atmosphere. At the moment, there are a number of candidates on the PDP side, who have come out. People like President Babangida, and former Vice President Atiku Abubakar even though he is yet to be fully readmitted into the PDP. Then we also have a number of others who would like to come out.
It looks like, what is going to happen the way I see it is that the field would be left open and Jonathan will want to stand and the PDP convention that will nominate the presidential candidate would be very exiting. But after that, I think the PDP would unite again and elect the next president.
Do you think Jonathan can win in free and fair primaries, considering the scenario you have just painted?
Well, I think I have said enough to show you that it is not everybody who agrees with this line of thinking. There are some people who said well, it is the will of God and we might as well go along with what is the will of God. All I can tell you is that no politician will contest any election of any sort unless they are sure in their mind that they will win.
What will be the position of the North if Jonathan contests and win? Would the North feel betrayed?
Well, it is a matter of judgment and I think we should allow people to make their own judgment on that one.
So, the question of betrayal does not arise?
I don't think there is any need to be using words like betrayal and all that. Remember it is still the same party. They have to work to campaign for their candidate to be elected at the presidential election.
Is it true you have sympathy for former President Obasanjo? Many believe that you are his political ally
I count him to be a fried of mine. Maybe if you ask him if Jibril Aminu is his friend, he may say yes and he may say no. But I have always admired some of his qualities. I tried to work with him. But you can best find out from him.
I think you are the one to tell me if Obasanjo is your friend or not.
We have been in the same party and don't forget I was his ambassador to Washington before I went to the Senate.
What do you say to the appointment of Attahiru Jega as INEC chairman?
It is an appointment. The good thing about it, for which I thank President Jonathan, is that from the First Republic, others monopolised the job. This is the first time anybody from the North would be made chairman of the electoral commission by whatever name you call it. The South East and the South South had monopolised it. In the present South West, nobody has ever occupied the position. I was getting worried whether the country feels that we in the North and the South West don't know how to count? Or maybe we cannot be trusted to conduct election.
As for the identity of the candidate, he is from the university. So, I automatically have sympathy with everybody from the university. I think it is a tribute to our university system that a number of these INEC people are from the university. Not just Attahiru Jega but also Maurice Iwu, Abel Guobadia, who was in the university commission with me, Professor Humphrey Nwosu, Professor Okon Uya and the late Professor Eme Awa. Many of them are from the university and it is a tribute to our university system. When you are looking for people for a very challenging job, you go to the university. As for his competence to do the job, I think they must have taken their time to assess his antecedents and his activities. The only thing that I can do is to wish him the best of luck.
You are from the same state with Atiku Abubakar and it seems there is so much disagreement between the two of you. Why?
We had a lot of differences. Some of them may be obvious. Won't you have differences with somebody who, when you are in the Senate and as vice president he takes steps to recall you from Senate. Would you not have differences with them? That one is obvious. We also had differences over the election in 2007 and virtually, we defeated him.
But he was governor-elect before Obasanjo picked him as his running mate.
Yes. I played a role in that because Bamangar Tukur and I would have contested, but we refused to contest. We left him and we knew if he had failed election as governor in 1999, Obasanjo would never have picked him. Nobody picks a failure. I can talk about the issues in a relaxed way because they are all gone now. The only issue we now have is that Atiku, after leaving the PDP and doing all sorts of things to PDP, wants to come back. He is having some problems about his returning. We had objected and my own personal objection is about the way he conducted himself when he left the PDP, the languages and the litigations and so on. He formed another party and contested against the PDP. Really, the party, from the grassroots to the top, had to endorse him to come back. So, I felt he should go to his ward and reconcile with the people of the ward. Then, he should go to the local government and talk to the people, so they can support his return. From there, he would go to the state headquarters that will recommend to the national headquarters. That is a simple straightforward matter.
He didn't do that at the beginning. He was only going to the national chairman and he spoke to the acting president. That will not do. In politics, you don't do that. It is the local people that will bring you to the centre and not like civil service, where the people at the centre send you to anywhere and you sort of rule the place. What impressed me about him was the fact that he went to the ward and local government, but I think he got stuck at the state level. I don't know what is happening between him and the people at the state.
One paper asked me and I said he has substantially satisfied our requirement, which is to go to the ward and local government, but they said Aminu said Atiku should come back. It is crazy. I never said anything of the sort. But if he was to go to the state now and they agree, I will not object because I think democracy has been followed. The national headquarters must just be waiting to hear from Adamawa. The truth of the matter is that if he decides to be remorseful and take all this steps, he may get sympathy in the country. No matter how I feel about him and about it, we have to be very careful that we do not act in such a way as to earn him sympathy and to earn ourselves blame.
What do you say to Babangida's ambition to rule Nigeria again?
I don't like the way you put it. It is so tendentious. You never said this of anybody. Why do you say he want to contest election again? Did he contest before? You should have said: what do you think of Babangida contesting election?
All right, sir. What do you say about Babangida's ambition to contest election?
He is a member of the PDP. He is a Nigerian. He is qualified to contest. Just like they say so and so is qualified to contest, he is also qualified to contest and I don't see why he should not contest. So, I entirely endorse his right to contest. What I don't like is for anybody to be hounded out of the arena. He had problems with June 12, but he is not the only one. They say this because it is easy for them to use it to defeat him. They want to use it to defeat him. They should just allow him to contest and let him be subjected to the interplay of political forces. We should make sure that whatever it is, somebody is subjected to a free and fair process and he is not harassed from the beginning and you don't try to intimidate them or ruin their names because they have not done anything criminal or anything wrong by contesting to be president. Whatever the electorate decides, that is where we should stop.
As a leader in PDP, are you supporting Babangida?
I am fully in support of his right to contest. You want me to tell you who of the candidates I support? You are actually infringing on my fundamental human rights. But if you ask me whether Babangida has the right to contest, I will say yes, he has.
What do you say to the warning of possible break-up of Nigeria in 14 years by the US?
The Americans never said so. Nigerians, and I regret to say, led by the president at that time, and took it up with great anger. You wander if it was the government speaking or the National Union Nigerian Students. Unless there is something I don't know, these are called scenarios for brainstorming. For example, they could say what would happen if somebody from Mars lands in Lagos tomorrow? They seat round the subject and they work round the subject, bringing out the likely scenarios and what needs to be done and what should be done and what should be avoided. That is what they did. They took Nigeria and worked out the scenario of Nigeria disintegrating. It was a very unkind thing to think of. Why didn't they think of a scenario of America disintegrating in 15 years? Much as I often criticise America, I don't think in that case, we were justified in the kind of anger we displayed. The anger we displayed when we were placed on the list of countries to watch, that one was correct because they put us wrongly there. We were right to be angry then. It was the intelligence council brainstorming. It was not a friendly thing for them to do.
Could you tell us what happened at the National Assembly when the late Yar'Adua took ill and he couldn't write a letter as required?
If you are talking about the National Assembly, we did everything correctly.
But it was not done immediately
You don't do it immediately. When somebody suddenly took ill and you immediately do it, there would be no system at all. You must allow the fact that the system can actually carry on without the head necessarily being there either short time or medium time. I suspect, knowing the kind of thing that happened later before his death, it was difficult or impossible for President Umar to write a letter. The important thing at that time was to save his life and take him for medical treatment, which was what they did.
And it is very interesting. I told some of my Yoruba colleagues, in the National Assembly, that in all these debate, they did not talk. They said yes, that in Yoruba land, when somebody is sick they don't talk about him. So, you can see the great cultural tribute, which I like. If you notice, senior Yoruba people kept out of it. It is not as if they had no views, but they just felt it was bad manners to talk about somebody who is sick. We prayed and prayed and people started all sorts of moves and rumour and political activism and they were bringing all kinds of scenario, like the one you people used in your paper, 'rumbles in the barrack' and so we did what we could do. Not having a letter, we used doctrine of necessity. This man addressed the world and he said he was not well and that he will be away. For us, it was information, which we can use and we used it. May his soul rest in peace.
The Senate sent representatives to Saudi Arabia, but they could not see him.
I am a doctor. When somebody is in the hospital, the doctor is actually in control. He determines who sees and who does not see him, subject to the patient's clinical circumstances. This authority he can exercise directly or via the nurse in charge. If you don't want to obey the order, you sign a discharge letter. So, people were just talking because they are not doctors.
When he was brought to Aso Rock, none of our leaders were allowed to see him.
It is the same thing. It is the same clinical circumstance. He saw people. He saw people of both religions. I am sure there were some people who were seeing him. They won't talk. My own feeling is that if the issue of the acting president not seeing him was not made so emotive, noisy and divisive issue in the country, I am sure he would have seen him.