Police Unleash Mayhem On A Journalist In Abia State Capital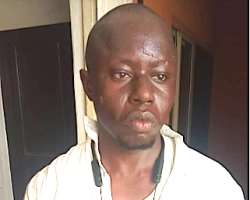 Men of the Nigeria Police Force have reportedly beaten a journalist to a comatose state while going to work in Umuahia, the Abia State capital.
The journalist identified as Thompson Nsisiongabasi, was said to be on his way to work today Tuesday 14th April 2020, around Ahiaeke axis of the state, saw people running at Orpet Junction where police officers and members of the Nigeria Security and Civil Defense Corps (NSCDC), allegedly had a fisticuff.
The reporter who works with Abia Facts Newspaper (AFNews), got the fair share of the show of shame from the police Inspector Sunday Daniel whose men rounded up the journalist accusing him of recording them without verifiable proves as his cellphone was down due to power failure.
It was gathered that he was beaten to coma inspite of his ability to identify himself which fell on deaf ears as blood gushes from his nose, while his phone was taken from him.
Asked by a superior officer who stormed the scene of the free-for-all by both security outfits, it was reliably learnt that the reporter approached him and narrated his ordeals, as same was confirmed by Inspector Sunday Daniel who however denied collecting his phone.
The National body of the Online Media Practitioners Association of Nigeria (OMPAN), which the journalist belongs, called on the Commissioner of Police, Abia State Command to as a matter of urgency to investigate the allegation levelled against Inspector Sunday Daniel, "or we will seek a legal means to address the issue", OMPAN threatened.