COVID-19: Borno Decongests IDP Camps, Provide Palliatives To IDPs To Cushion Sufferings At Camps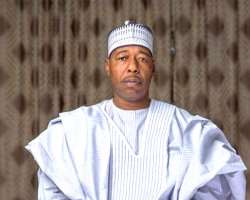 Borno State Government has kick started processes of relocating and decongestng Internally Displaced Persons (IDPs) camps in an effort to prevent the spread of Coronavirus Disease at the IDP camps across the State.
The Borno State Deputy Governor , Alhaji Usman Umar Kadafur disclosed this to newsmen in Maiduguri weekend while Fielding questions from journalist on measures taken by the high powered committee in prevention and control of the spread of covid-19 in the state.
Usman also said that the committee earlier given standing order on restriction of movements in and out of the twenty three designated IDP camps across the state.
He further expressed his appreciation to the governor and entire people of the state for the support, cooperation and understanding during the lockdown while commending the people of the state for observing the directives and measures given out by the federal and state governments put in place to prevent the spread if the covid-19 disease in the state
The Deputy Govenror however emphasized the need for more improved hygiene and healthy environment through sanitation.
Usman added that upon the Insurgency challenges, Borno State Government was able to provide some palliatives to the IDPs to cushion their sufferings during the lockdown with the hope for provision of more pallaitives to the IDPs and gist communities.