Will 'HungerVirus' Listen to President Buhari's Plea Again?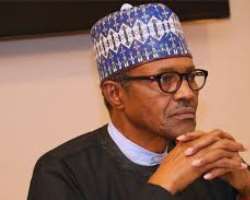 Not that Nigerians are not interested in staying at home any nanosecond further, the issue with staying at home any further is that we are not certain of how our individual stomach will react to the recent plea from PMB, for us to spend extra days at home, so as to fight the COVID 19 pandemic ravaging us. For those who have strong savings accounts and food at home, they may not be bothered by this plea from the president. But for those 95 millions wallowing in extreme poverty, this kind of plea from the president is a threat to their survival.
Over the last 13 days, how. the latter category of Nigerians survived the deadly coronavirus lockdown in places like Lagos, Ogun and Abuja can only be best imagined. The images of the governments' relief packages shared online and on television screens are a mockery of our sovereign nation in the comity of developing nations. The contents of these relief packages are appalling and unbelievable. Even the video clips of how these relief packages were shared and distributed among the people: first, negate the principle of social distancing in fighting the deadly virus; secondly, highlight the magnitude of poverty in our land; thirdly, show that Nigeria is not good at planning and organising largely due to lack of efficient and reliable database system; and finally, show the kind of love and care our leaders have for the vulnerable and the poor people in Nigeria at a perilous time like this.
Within this period, a huge sum of naira had been used to procure these relief materials by government authorities across all levels without substantial impact being seen in the lives of the beneficiaries of this largesse. From the press statement released by Mr Garba Shehu, the media aide of President Muhammadu Buhari, the issue of expecting more interventions from Federal Government is not a problem, the bigger challenge should be how to ensure that the next phase of relief packages targets the right people and reaches the poor ones in our society. Our experience over the management of the last set of or ongoing social interventions from governments clearly raises questions of accountability, transparency and prudence. I have a strong feeling that secrecy, lack of proper coordination and corruption didn't allow Nigerians to enjoy the last set of social palliatives from government authorities at all levels. So, how government authorities will ensure that the next batch of their social palliatives do not suffer in the hands of another virus called 'COVIC 4 1 9'( apology to Faruq Kperogi) is something concerned government authorities must first address squarely. Otherwise, we would just be pouring another cup of water inside basket while the citizens lament in a pool of anger and hunger.
Let me add that Nigerians are eager to connect with their loved ones, return to work, as earliest as possible. The idea of extending the ongoing lockdown without specific timeframe makes the whole process more scary and unpalatable. Are we in an endless war? I believe we cannot lockdown the nation indefinitely. A timeframe must be given. This is the practice elsewhere. Nigerians should know how long they would be staying further at home for them to adjust and plan themselves. Canvassing a subtle call for lockdown extension without definite time is not a good one. This might bring no sense of urgency, laxity, complacency and relentlessness on the part of the people managing this crisis. Thus, I strongly suggest that Federal Government should inform us when the next phase of lockdown extension would last.
Truth must be told. Our process of contact tracing of suspected people with coronavirus in Nigeria has not been utterly effective, partly due to paucity of funds and personnel and mainly due to our failure in adopting the right approach of tracing and tracking down suspected people with this virus. The other day, the Director General of Nigerian Centre for Disease Control(NCDC) said that more than 80% of the coronavirus cases in the country are from people who returned to Nigeria, most likely some days before our international airports were closed for foreign travels. This means that Nigeria can get the details of all the people who came into the country during this period. I therefore feel that Federal Government should reach out to all these people and put them in our isolation centres across the country. Those who cannot be reached should be told to report at designated places within a stipulated time, and their failure to comply voluntarily, government authorities should publish their details for people to see and possibly assist in tracking them down. If possible, an international travel ban should be placed on any erring person, who fails to report voluntarily for government to conduct the necessary observations, screenings and test on him/her.
This is the way I feel government should go in the next phase of lockdown. NCDC is overwhelmed, this is because there are reports that not all the people who called their toll free lines get their immediate attention. People have to call and call, or wait for days before they receive attention from the NCDC officials. Something must therefore be done to track all the suspected cases to reduce the pressure on the NCDC officials. I do not think we should go the way of South African government where they had made it clear to test all their citizens for COVID 19. This will be too costly for Nigerians and Nigeria as a nation. Ten thousand naira per COVID 19 test is not a child's play for a country like Nigeria. Do we even have enough test kits or laboratory centres for testing COVID 19? The answer is simply NO!
Above all, government's palliatives must be better managed now. Those who could bear the first phase of lockdown without expecting or receiving or asking for any support may not be able to do so as we enter the next phase of lockdown. This will definitely increase the pressure on governments across all levels and add to the existing and ceaseless cries for supports. Already we know that when people are hungry, they become angry and restless. They may lose their gentleman status and behave irrationally. I therefore call on our leaders to be more realistic with the people and show better concerns towards the welfare of the people. We are aware that elsewhere, some governments are paying their citizens to stay at home to enforce social distancing and lockdown order.
Shamsudeen Ayeni, wrote this piece from Akute, Ogun State
Disclaimer:

"The views/contents expressed in this article are the sole responsibility of the author(s) and do not necessarily reflect those of The Nigerian Voice. The Nigerian Voice will not be responsible or liable for any inaccurate or incorrect statements contained in this article."