I ignored God's command for 11 years – Ebenezer Obey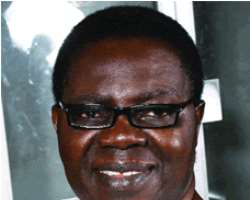 Whenever the name of Commander Ebenezer Obey is mentioned, Nigerians only remember him for his music. But apart from music there are other interesting things about him. For one, the ace musician is not only a servant of God but also father of three pastors.
In this interview, Obey told a story of how God called him into evangelism. According to him, he ignored God's command for many years but eventually heeded the call when he could, figuratively, hide no more.
He spoke on this and many other things.

You are an evangelist and a musician. How were you called?
When I received the call, I struggled for 11 years before I finally accepted Christ. I personally received the revelation and it was later confirmed to me by great men of God, like the late Benson Idahosa, but what actually broke the camel's back was when God said to me, in a dream, that assuming I slept and didn't wake up the next morning, how would I play Miliki music. He asked if I would do that in the grave. That was when I finally surrendered my life to God.
The late Benson Idahosa later advised me to go for observation course. I did on-the-job training for nine months in the United States of America. I came back to the country at interval of three months to honour some engagements that had been paid for. The special appearances were not to make money. Whatever we realize from special appearances is put in the work of the gospel. Today, three of my sons are pastors. I give all glory to God. We've also seen the trait of having more pastors in the family.

But we understand you made special music appearances even while being trained as a pastor?
God has a way of dealing with his people. We are not God and we don't know His plan for us at any point in time. Take the case of Elijah in the Bible, for instance. If it were this day that Elijah entered the house of that Widow of Sarephat, they would say he wanted to fornicate with her. Everything that God does for us at every point in time, He has a purpose for it.
People can say anything. I've been doing special appearances for my friends in the last seven years. I was called into the ministry not to make money or enrich myself. I spent all I made in music in the ministry without any regret. You can't trade with God. I lost my factory. Banks were on our neck because we owed two banks then. I have so many people who could help but I didn't want them to see me as a beggar. I read my Bible. I make my Bible my best companion and today the trial is over through the help of one man, Otunba Mike Adenuga. What he did for me is simply beyond me and I will continue to pray for him and his family.

What kind of songs do you now play?
Most of my songs are character moulding and they are directed at the society as a whole. People like listening to my music before leaving home in the morning. My lyrics are not only didactic, but they also uplift the human spirit. When God gives you a talent and sets you up in a generation, the Lord Himself will give you a special message for that generation; something that will make you an outstanding person. Your generation will marvel at your gift and appreciate it. So, when we talk about the source of my inspiration, I would readily say it comes from God.

How would you describe your life?
All my life, I have always been lucky to be at the right place at the right time. I always met the right people, like Mr. Cress, the man who gambled on me and won. Also, it came to a point when everything became spontaneous. When I wanted to go for recording, I didn't necessarily need to think seriously of what I would sing. Most of my compositions were done live on stage. I would be on stage and the melody, together with the lyrics, would come. Many times, the melody would come to me on stage and my band boys would be wondering how the idea came. I believe everything comes from God. The Almighty breathes down the music into me. At times, when the spirit to sing a new song comes, it would hit me and I would tell my boys that I want to sing. I would tell them that something in me is telling me that I have to sing. When they see me in that mood, the boys are always happy. They would cheer and shout, 'Oga'! Immediately, the guitarist would start striking the chords, the music would just be flowing and everybody would be playing his part as if we had all rehearsed.

You had an eye problem. How did you over come it?
I had Glaucoma and Cataracts. I ought to have taken care of it, but I didn't. If not God, I wouldn't be able to see you people, but I was never blind. However, each time I walked and saw a step on the way it becomes double to me and assistance would be needed to take the step one after the other. The impression that I was blind is absolutely incorrect.