STEPH OKEREKE REDEFINES AFFAIR WITH LINUS IDAHOSA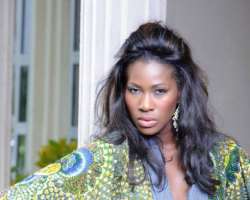 That Linus and Stephanie Okereke have been dating is no longer news. The two loverbirds who were said to have separated due to reasons best known to them are now back on each other's arms once again. Award winning Nollywood diva, Steph has reasons to be happy again after the crash in her marriage a few years ago as she has now renewed her love with the Deylock International's boss, Linus Idahosa.
Chikelu, her footballer ex-hubby who is said not to be happy with the new development in the super actress' life, we learnt, is already putting machinery in motion to ask for her ex-wife's forgiveness and probably a second chance as his once-upon-a-time fortunes are said to be gradually dwindling and life, to him, we were told, has become unbearable.
As you're reading this, Steph and Linus are happy together and the versatile screen goddess is said to have been promoted to the position of Chief Operating Officer at Deylock International, her fiancé's company. Don't be shocked when the wedding bells ring soon o.