ETHNIC MODELS' MONISADE WINS MISS GLOBAL, NIGERIA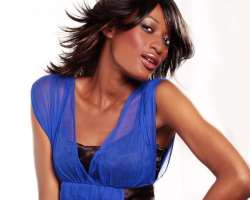 The highly hyped beauty pageant organized by The Enquirer Magazine, Miss Global, Nigeria has been won by the leggy queen of beauty, Gbobaniyi Monisade, one of the beautiful faces groomed and managed by Ethnic Models International Agency, the international modeling outfit run by Princess Aderonke Ademiluyi but managed by her London returnee brother, Kamari Ademiluyi.
The super model, Gbobaniyi Monisade has made quite an impressive statement in the modeling world with her intimidating vital statistics of 30: 28: 32. Her victory in the recently held Miss Global, Nigeria 2010 proves beyond reasonable doubts that, Ethnic Models has come to stay in the industry having fully threw their weight behind the Ondo State born queen of beauty who is set to represent Nigeria for the international pageant in Jamaica before the end of this season.
The star-studded event which presented about 65 beautiful contestants from all walks of life, we gathered, has become a turning point in the life of the beautiful and very sexy model, Moni as her modeling agency, Ethnic Models are already making grand preparation to present the beauty queen to the governor of Ondo State as the daughter of the soil.
Shortly after her victory, the Mathematics and Science undergraduate of the University of Lagos, Moni gave all glory to almighty God who made it possible to get the crown and of course, Ethnic Models for their unflinching support over the years on her career.
"I am really happy for this victory; it's something I never expected to happen so quickly. Though, I have registered my presence in the industry as a face of Elan and other big jobs, however, this victory came to me as a shock because I didn't know I was going to emerge as the winner, though I put in my best to get to the final stages. I give God all the glory and of course, my modeling agency, Ethnic Models International for taking me this far. I promise to make a difference in my career as the reigning queen of Miss Global, Nigeria." The beautiful model enthused.
Ethic Models International Agency, is a UK, Nigeria registered company owned by Aderonke Ademiluyi, the fashion dictator who runs Rukkies Boutique in Opebi area of Lagos. The company, over the years, has organized a lot of fashion shows and beauty pageants which include Miss Sunshine in Ondo State, Kids on the Runway, Little Stars at Fantasyland to mention but quite a few and has, in a couple of times, presented her beautiful models for top government events, multinational companies and other corporate organizations.