WE MUST REFORM NOW OR SINK, GROUP TELLS JONATHAN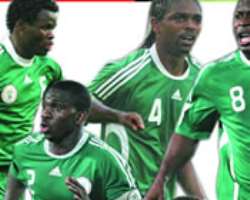 After the Super Eagles failed to to qualify for the second round of the on going South Africa 2010 FIFA World Cup, Nigerian Professionals in South Africa have reiterated their call on President Goodluck Jonathan and Sports Minister, Ibrahim Isa Bio, to either reform our football now or it will continue to sink.
The group in statement made available to media yesterday in Johnanesburg by its public relations officer, Babajide Aremu, said members were shocked by the reaction of Nigeria Football Federation (NFF) to their earlier call on the government to reform football. " the guys running football in Nigeria are just not the right people.
We have no business with their so called election. We are resident in South Africa and we are ashamed that our country, the giant of Africa, the most populous black nation in the world, endowed with a lot of human and material resouces could not raise a team that will get to the semi-final of the World Cup", said Aremu.
The group wondered why the board was celebrating our qualification for the World Cup and what we have achieved in the under age level," the fact that we have not been able to transit from a country that succeed at under age level to success at senior level, shows that our feat at under age level is suspect."
They posited that Nigeria has consistently failed at the stage that mattered most in the Africa Nations Cup and the World Cup," the members of NFF should be ashamed that out of possible nine points, the team they assembled could only get one point. Even countries with poor football pedigree such as South Africa got four points.We are big nation known for all football, so we should not be celebrating qualification, that is for countries like Togo or Benin Republic.
What we should be celebrating is winning the World Cup."'
The group also called on the government to probe allegation that a member of the NFF own the Hamsphire Hotel, Durban, the sub standard hotel that was hired for the Eagles before the minister changed it.They also want the government to probe allegation that NFF sponsored about 160 people to South Africa and release the report of the government probe panel of the missing $236,000 from the NFF account department and other allegations against the board. " Government need to return to the era when we have people like Nathniel Idowu and others as member of the NFF board.
They were lovers of the game who spent their money on football, the present board members are in it for what they can get and not for the love of the game, the earlier government send them packing, the better. They are like locusts, they are not adding any value to our football . Government must overhaul our football now", insisted Aremu.