ZIMBABWE: PM TSVANGIRAI SACKS FOUR MDC MINISTERS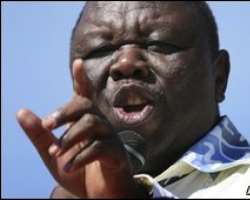 Zimbabwe's Prime Minister Morgan Tsvangirai has sacked four of his party's 15 cabinet ministers in the power-sharing government.
His Movement for Democratic Change joined a unity government with President Robert Mugabe's Zanu-PF party in February 2009 after disputed polls.
The ministers failed an MDC performance review of the last 16 months in power.
The BBC reporter in Zimbabwe says Mr Tsvangirai is also asserting his authority amid growing MDC divisions.
Power cuts
The BBC's Brian Hungwe in the capital, Harare, says some of the ministers were reportedly shocked to be sacked.
But he says they have long been accused of not delivering – like Energy Minister Elias Mudzuri who faced criticism in a nation still haunted by power cuts.
Housing Minister Fidelis Mhashu and two other deputy ministers were among those dismissed.
Announcing the sackings, Mr Tsvangirai did not touch on internal party politics, instead saying it was the mounting challenges facing Zimbabwe that had prompted him to review the MDC's performance.
"The pace of reform has been painfully slow; abuses of power are still all too common; many people are still struggling to make a living wage and provide for their families," he said.
"I am acutely aware that these and other challenges have led to the loss of confidence in the new administration amongst the electorate."
Mugabe-Bennett dispute
Our reporter says new ministers are expected to be sworn in by President Mugabe on Thursday.
But Mr Tsvangirai said Roy Bennett, the MDC's nominee for deputy agriculture minister, would not be among them.
Last month, the white former farmer-turned-politician was acquitted of charges of plotting to overthrow Mr Mugabe, but prosecutors say they are appealing against the verdict.
The MDC believe the charges are politically motivated.
"I'm sorry to say it still remains a disputed area in spite of the commitment by President Mugabe that when Bennett is acquitted he will be sworn in," Mr Tsvangirai said.
The prime minister said the matter – along with other areas of contention with Zanu-PF – had been referred to South Africa's President Jacob Zuma, the regional mediator in the crisis.