SOUTH AFRICA DROPS TWO CHARGES OVER RWANDA SHOOTING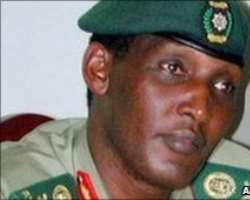 Charges have been dropped against two men arrested over the shooting in South Africa of Rwandan dissident Lt Gen Faustin Kayumba Nyamwasa, police say.
Four men are now due in court on Tuesday over the shooting of Rwanda's former army chief of staff.
Lt Gen Nyamwasa, who was shot in the the stomach on Saturday, has been released from hospital and is now being cared for at his home in Johannesburg.
Rwanda has denied accusations it tried to assassinate Lt Gen Nyamwasa.
Meanwhile, the justice ministry in South Africa has also confirmed receiving an extradition request from Rwanda for both Lt Gen Nyamwasa and Patrick Karegeya, a former colonel in the Rwandan army, says the BBC's Karen Allen in Johannesburg.
Lt Gen Nyamwasa is accused of being behind grenade attacks in Kigali earlier this year in which more than 30 people were injured and one person was killed.
Lt Gen Nyamwasa has denied the allegations.
The nationality of the four suspects is still unknown and police have been reluctant to give more information because investigations are at a "sensitive stage".
Lt Gen Nyamwasa's wife, Rosette, accused Rwanda's President Paul Kagame of wanting her husband dead.
"[Mr Kagame] said it in parliament that he will actually kill my husband, that wherever he is he will follow him and kill him," she said.
But Rwanda's Foreign Minister Louise Mushikiwabo said in a statement that Mr Kagame's government "does not condone violence" and said she trusted South Africa to investigate the shooting thoroughly.
Arrest warrants
Once a close confidante of Rwanda's President Paul Kagame, Lt Gen Nyamwasa fled to South Africa in February and has since accused the president of corruption – charges Mr Kagame denies.
There have been several recent defections from the military ahead of elections due in August.
Lt Gen Nyamwasa played an important role in the rebel Rwandan Patriotic Front (RPF), led by Mr Kagame, which put a stop to the 1994 genocide and which is now in power.
But France and Spain have issued arrest warrants against Mr Nyamwasa for his alleged role in killings in the lead-up to and during the genocide, along with other senior RPF figures.
Mr Kagame is viewed by many in the West as one of Africa's more dynamic leaders.
However critics have raised concerns about his more authoritarian tendencies and the government has recently been accused of harassing the opposition ahead of the elections.