DEREGULATION IS THE ONLY ANSWER TO SUBSIDY ISSUE – UFORO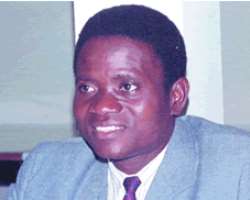 Uforo
Executive Director of UTRM Limited, George Uforo, a civil, infrastructural development and maintenance engineer, is of the view that if government would accept to refurbish the refineries in the country, there would be no need to talk about withdrawal of oil subsidy.
Uforo, who was the engineer that built the Mobil House at Victoria Island, Mobil Insecticide Plant in Apapa and Mobil Gas storage in Port Harcourt, predicted that there would be problem if government withdraws oil subsidy because the people are suffering.
In an exclusive interview with Daily Sun in his house in Surulere, Engr. Uforo stated that there is nothing like oil subsidy, rather what the government is addressing as subsidy is the cost of production in a foreign land. He said that deregulation is the only thing that will make subsidy not to be felt.
When government remains hard on oil sector, the people will feel government is cheating them. 'You cannot remove subsidy until you put infrastructure in place,' he said.
Excerpts:
Subsidy withdrawal will cause social unrest
I compare our position as that of a farmer who plants yam and the business of farming is prospering. He will serve his family first before going out to others. Nigeria as an oil producer, the people of Nigeria should enjoy it first. Oil subsidy? I don't see it as subsidy. Are we subsidising Ghanaians or Malians? If we say we are removing subsidy, which I don't call subsidy, everything goes up. The manufacturers would see other things going up, they will also increase their product prices.
This is an area that should not be touched now.
If government can refurbish the refineries, then we can let the market to run free because now, what we are subsidising is the cost of producing imported products. When we say we are subsidising oil, it means we are subsidising the cost of production outside the country. The refineries, if put in order, then we can allow the government to deregulate and can allow withdrawal of subsidy. When things in the sector are in order, we then see products at the cost of local production here.
I do see problem because the people are suffering, and if government deliberately add to the burden, the people will react. They say Nigerians are resilient but when they are pushed to the wall, they will turn round to fight. Deregulation is the only thing that will make subsidy not to be felt. When government remains hard on oil sector, the people will feel government is cheating them. You cannot remove subsidy until you put infrastructure in place.
The government made mistake in telecommunications industry by not putting infrastructure before deregulating the sector. In oil sector, the infrastructure like refineries, distribution system, marketing structures, and making the products available should be carried out, and with this, the people will not feel any subsidy withdrawal.
Not to run from that, if government puts necessary things in place, improving power supply, fix the roads, provide adequate education and other things, then the people will not feel it. It seems to me that government wants the people to be subsidising them instead of government subsidising the people. The people own the crude oil, so they should enjoy the fruits of the crude oil. If things are well handled, there will be no reason for the people to suffer.
The government approach presently is wrong, absolutely wrong. The government has always been telling us that when fuel subsidy is removed, that things will be better. They have done it eight times now and nothing has come out of that promise. The government should be ready to sacrifice, and the people will co-operate. The people want to see performance this time before government make demands from them.
It is self-destructive strategy for the government in power to be talking about removing subsidy in an election year.
Oil revenue
I should believe the revenue from oil sales is coming to the nation, if the government agencies could do their work well. But I am not seeing things that are encouraging. I should see good roads, water, transportation, water, electricity supply, healthcare delivery and other things, it means that something is wrong somewhere.
That thing that is wrong is what I don't know.
The major oil exploration and drilling firms are multi-nationals, but there are two indigenous firms in exploration; one is now involved in drilling. The issue is general poverty in all these years, not that we have no capacity. The multi-nationals still use Nigerians. It is only about financial capacity. It is also policy framework, but with the Local Content Law being put in place and with funding provided, like the Diamond Bank now has facility to support the local content, the situation will change.
The major problem is funding because it is capital intensive. It is profitable but capital intensive.
NNPC
The truth is where an oil firm wants to embark on a project, there will be tender, and people will tender and experience will be required. The Nigerians are without experience. Our people hardly think of enterprise but always think about survival now. The government still requires providing the enabling environment. The general poverty is addressed by providing structure and infrastructure and not necessarily dolling out money.
Educational institutions should teach entrepreneurship, but the people should have an experience in a big company. The institutions should reverse curriculum, so that from day one, they too can be entrepreneurial. When a Nigerian gets job in oil company, he gets a car, house, good salary package and he feels he has arrived. Entrepreneurial skill should be compulsory in schools like English and Mathematics. This will help to change our economy in ten years.
Engineering services
The problem in engineering service in this country is both from the engineers and government. Apart from the Gowon regime, there has not been any major development. It is that kind of activities that move the people to confront challenge. All over the world, like Europe and USA, government has been the mover of economy. When Obama came, he wanted to create jobs, he put billions of dollars into the American economy.
During Obasanjo, not a single kitchen was built and not to talk of housing estate. When there is nothing, the engineers will take jobs that are not engineering work. The blame is on the government. Even in government, it is engineering which drives the policy because they are closer to government. If government has no drive to provide infrastructure, the engineers have no job, even in oil companies.
Most people don't know that Julius Berger was almost going under, because in 1995, they were about leaving before they got the job of constructing the Malu Road, Apapa. That contract kept them afloat and they got new hope to remain. They diversified, but it was primarily a road Construction Company. Strabag left because they had not enough jobs. So if this big company could go, will the small one stay? The government should drive policy by initiating projects. The bad roads are there, and we need new roads also. We have 17 million deficits in housing in this country; these will keep engineers very busy.
Mobil house
Two days ago, I passed the Mobil House at Victoria Island, I reminded someone that': 'This is the house that Jack built.' I always remind people that I built the house. When we came there, it was a swamp and the soil was loose. We did pilling there. I was to do electrical engineering or medicine, but with the Mobil House, I tell myself that I need to do something that after, I can see and tell people about it and say that this happened in my time.
Mobil House: When we got there, the place was called Maroko, but the people don't want to call it Maroko, but prefer to call it Sandfill. The same feeling, I had with Malu road, but I started the Malu Road project and someone else completed it. It is one of the most modern roads in Nigeria and in the world. It has good lighting, drainages and well constructed.
Engineers get satisfaction when they see things, environment turn-around. That is the good nature in us. When our creativity is displayed, we get satisfied. When Mobil Insecticide Plant in Apapa was completed and commissioned, I felt fulfilled. We are project-oriented. When I saw the output, I felt fulfilled. In me, I felt fulfilled because I said, 'This is what I came into the world to do. I saw myself fulfilling my destiny.'
I was prominently featured in the local and international Mobil Newsletter called Mobil News, Mobil Africa, and Mobil World. When I built Mobil Gas storage in Port Harcourt, I was well featured in Mobil Africa. They are done to encourage project participants and the young engineers and young staff of the company so that they can aspire to do something remarkable in future.