I AM NOT FOR SALE – PROF. JEGA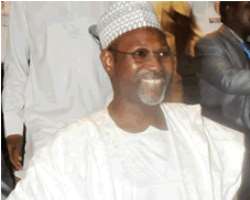 Prof. Jega
President Goodluck Jonathan's nominee for the chairmanship of the Independent National Electoral Commission (INEC), Prof. Attahiru Jega, has said that he is not for sale. He also declared that the issue of paying back the President's favour for nominating him would not arise.
Prof. Jega, who was being grilled by Senators during his screening with regards to the possibility of his being tempted with N50 million, said he accepted the nomination as the greatest challenge of his life and thus would not compromise his integrity by accepting such amount of money.
He said: 'I would say as Vice-Chancellor, I have seen N50 million but if I am offered N50million, I will not take it because I am not for sale. The issue of INEC being handed over election results from outside the commission would not arise under my leadership.
'Appreciation is a human phenomenon. I do not expect that the issue of paying back the favour of my appointment would arise based on the assurances I got from the Presidency with regards to its determination to have credible, free and fair elections. My relationship with the Presidency is defined by law and I would ensure that the law takes its course.'
Prof. Jega, who is the Vice-Chancellor of Bayero University, Kano also assured that he would be an impartial umpire as Chairman of INEC, adding that he would want to be remembered as the person who led an INEC that conducted the freest, fairest and most acceptable election in the country. According to Jega, 'To sustain stable democracy, there has to be free and fair elections. Election offences tribunal should be established to handle cases of electoral violence, rigging and other offences.'
The INEC chairmanship nominee said that his priority when he assumes office would include the revision of voters' register, preparation for elections and internal re-organisation of the commission, stressing that the credibility of the 2011 general elections would depend to a large extent on the success of the voters' register.
Prof. Jega, however, said time was of essence in the preparation for the 2011 elections. He, therefore, appealed to members of the National and state Houses of Assembly to fast-track the process of the amendment of the Constitution and the Electoral Act.
He canvassed for attitudinal change of Nigerians towards election matters, saying that no matter the type of laws put in place, there will be little that can be achieved, thus promised to work to add value to the conduct of elections. 'I have no illusion as to the desires of Nigerians for free and fair elections. Until I get to office, I can't have a clear appreciation of what is on ground. Elections are guided by laws, namely the Constitution, and the Electoral Act. I would be guided by the extant laws,' Prof. Jega said.
He noted that his focus would be to give competent and credible leadership with a view to giving Nigeria free and fair election, adding that his relationship with every participant in the electoral process shall be defined by law.
The INEC chairmanship nominee said while he is a human being with human nature, he still tries to practise what he preaches and thus would ensure that INEC under his leadership would do its best to conduct free and fair elections, adding, however, that no matter what he and other members of the commission do without the support of other key stakeholders, it would amount to nothing.
Prof. Jega said even though he is a friend to the immediate past chairman of INEC, Prof. Maurice Iwu, he never offered any advice in the course of his duties since it was not solicited for, adding, however, that he had occasions during which he presented papers as a resource person at INEC workshops.
According to Jega, 'I never had any official contact with Prof. Iwu, who was my friend. I don't deny my friends and I will not do that here but I was never a consultant to INEC.