Drivers, Commuters Survive Severe Accident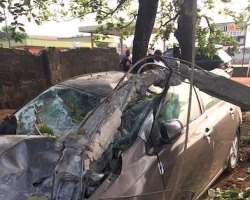 Driver of a Toyota Corrola Car and a trailer driver have survived a dangerous accident that would have claimed their lives and that of other road users.
It was gathered that the trailer driver was coming from Agbor axis of the Asaba-Benin expressway when the brakes failed and crashed into the median demarcating the expressway to the other lane.
The driver of the Camry while trying to avoid the trailer which veered off its lane after colliding with the median kept to the lane, rammed into an electric pole around the Summit Junction, destroying the car beyond repairs.
The accident which occurred Thursday by Prescott Hotel Junction in Asaba, left many scampering for safety amidst the busy road.
An eyewitness, Mr. Nwachukwu Chris, disclosed that the trailer failed brakes and rammed into the median while trying to avoid crushing commuters on his right hand side.
Hear him: "the trailer was coming from the Summit junction axis going to koka Junction towards Onitsha while the Toyota corrola was coming from the koka axis going towards Summit Junction towards Agbor on the Asaba-Benin expressway.
"when the trailer failed brakes and jumped the demarcation and enter the other lane, In the process of the Corrola trying to avoid the accident, the Corolla summersaulted and rammed into an electric pole causing damage to the car", Chris narrated.
Although, no life was lost, the Corrola was damaged beyond repairs while the trailer was towed by the truck of Federal Road Safety Corp (FRSC).