Please Who Knows Senator Ifeanyi Ubah Well.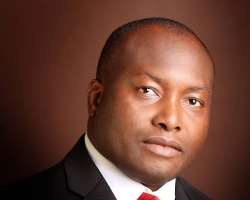 I have decided to make this post not just because am from Nnewi but additionally because I voted for him due to the uppercut he received from Gov Obiano, which Ndi Nnewi felt so bad about.That he is not qualified to be a Senator is not in doubt if you lay sentiments to sleep, but Ndi Nnewi are very sentimental and proud people and "Ifeanyi Uba bu nke anyi" so any dirty slap on his face is an insult to Nzuko Nnewi in general. After all Onye ara bu nwanne mmadu ( a mad man is still someone's relation)
I am making this plea because I have severally spoken to people around him to reach him and clearly spell out the many grave dangers he faces should he ever continue on the part of his self destruct inordinate 2022 Anambra State Governorship ambition.
Danger No1
The Fed Govt N135b fraud charge against Ifeanyi Ubah at the Lagoa High Court. When this case came up I December last year, Ifeanyi Ubah was not in Court and Justice Nicolas Oweibo adjorned till the the 20th Feb 2020 for hearing in the N135 Billion fraud charge filed against Ifeanyi Uba and his firm Capital Oil & Gas. His arraignment on these charges is a serious matter that could land him in jail if care is not taken. Orji Kalu readily comes to my mind and he has more connections in the APC government than CAPITAL. Caution should be his watch word
Danger No 2
The new AMCON Law (Amendment Act, 2019) which empowers the agency to access the financial details of debtors. With this AMCON can now place bank accounts of debtors under surveillance and by-pass any legal or procedural restriction, specifically those protecting banking details of debtors as well as establish the location of debtors' funds at home or in the Diaspora.
What Am I saying
1. Advise Senator to lay low
2. Tell him to pay off the over 1450 workers most of whom he has owed salary and wages for more than 2 years.
3. Shelve any further idea about joining the Governorship race in Anambra.
4 . Settle People that made him a Senator
5. Instruct his E rats to ease off activities all online activities.
6. Commence a fence mending journey with most of his enemies who have spread banana peels all along his part.
He might not listen but at least let someone tell him boldly and bluntly.
Kirikiri prison beckons.
He must try hard to avert it.
Icheoku Nnewi has spoken
Ya kpotuba