The 'Deportation' of Yvonne Chaka Chaka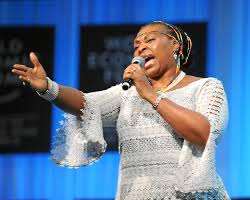 Yvonne Chaka Chaka born Yvonne Machaka came to prominence in 1981 at the tender age of sixteen when she made history as the first black person to appear on South African television in the then apartheid regime. She has not looked back since then and has gone on to become a highly successful musician, song writer, entrepreneur, humanitarian and social commentator.
Her hit songs like 'Burning up', 'Thank you Mr. DJ', 'I cry for freedom', 'Motherland', 'Umqombothi' amongst many others have gone on to cement her as an international icon. She has shared the musical stage with heavyweights like Angelina Kidjo, Bono and she is a household name in Gabon, Sierra Leone, Kenya, Zimbabwe, Cote D' Ivoire where her songs is on the lips of even children.
She played a key role in using her social change driven kind of music to put an end to the evil of apartheid which greatly dehumanized her people and reduced them to worse than sub humans. Alongside the likes of the late Lucky Dube, she railed against the Caucasian authorities and became extremely popular among the masses who instantly saw her as a heroine as she resonated with them and was their unofficial spokes person.
She was in the news recently when she was deported by the Ugandan authorities when she was in the country to perform in a concert to usher in the New Year. The police explained that she was sent back from the East African country because she didn't have a working visa. This was rather ridiculous as she had a history of performing in shows in the country as this clearly wasn't her first time so why did the issue of a working visa suddenly come up?
Her die-hard supporters contend that she was on the government watch list since she publicly declared her support for opposition leader, Bobi Wine and even went as far as calling him the next Nelson Mandela. This apparently didn't go down well with the Yoweri Museveni led government who has been in power since 1986 and shows no signs of wanting to hand over to a successor anytime soon.
Bobi Wine commented on this and this was gleaned from his official twitter handle:
Our friends from abroad have attracted the wrath of the state for openly supporting our struggle for freedom. Today international icon @YvonneChakaX2 was deported from Uganda. Whatever reasons the security agencies give, we all know the regime is afraid of her SONGS OF FREEDOM!
The world famous musician however debunked claims of her being deported. In her response to this widely circulated rumour, she said: ''I took a decision not to appear this evening at Enkuka, because there were just too many things that I could not understand or explain. If somebody had explained to me, I really would have understood.'' she explained.
''Not deported, not arrested, not captured. Everything is fine, everything is in order. I know my people are worried, my country is worried, my husband is worried….but I am fine.''
We are at a loss on who to believe as we have seen two conflicting claims.
Let us assume she was deported and she is merely trying to be diplomatic about it for reasons best known to her then it is highly condemnable as it amounts to censorship of the highest order. Her fans in the country have the right to see her live especially after they have paid for the concert. The government should be tolerant of opposing views as it is a sign of maturity and a dividend of democracy even though the type of government in place there is a civilian dictatorship.
We condemn this action in its entirety if it is true and urge the government to do the noble thing by allowing her perform in their country as she has a right to the freedom of expression.
When will African leaders ever learn?
Tony Ademiluyi writes from Lagos and edits www.africanbard.com
Disclaimer:

"The views/contents expressed in this article are the sole responsibility of the author(s) and do not necessarily reflect those of The Nigerian Voice. The Nigerian Voice will not be responsible or liable for any inaccurate or incorrect statements contained in this article."
Articles by Anthony Ademiluyi