TETFund: CSOs dismiss calls for Bogoro's investigation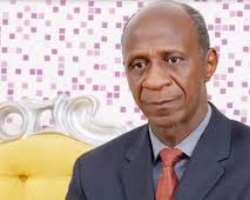 A coalition of civil society organisations has dismissed calls for the investigation of Executive Secretary, Tertiary Education Trust Fund, Prof. Suleiman Bogoro, describing it as "diversionary plot to derail crusade for transparency".
The coalition, led by the Advocates of Social Justice for All, the Coalition for Transparency and Accountability and the Equity Initiative, among others, in the report of a survey on the activities of TETFund under the leadership Bogoro, alleged that the call for his investigation was from disgruntled sources unhappy with some of his new initiatives.
In the report signed by its national president, Joseph Guona, the coalition also alleged that vice chancellors of some universities were not pleased with the monitoring team deployed by the TETFund to all project sites across the country.
"Bogoro's insistence on due process, accountability, and transparency in the conduct of government business also hasn't quite gone well among the tertiary institutions top shots" the coalition stated.
The Coalition, however, noted that it had undertaken a survey of the activities of TETFUND under the leadership of Bogoro by consulting relevant stakeholders in the critical tertiary education sector. It said: "This consisted of site visits to select tertiary institutions where it was indicated TETFUND made interventions.
"The various projects initiated by TETFUND were scrutinized based on quality, cost, and deliverables. The committee also interviewed TETFUND contractors to understand the contract award process in effect in TETFUND, as well as the various milestones for payments. "It also interacted and scrutinized the procurement process in place in the agency with regards to adherence to due process and other ethical stipulations.
The committee looked at the welfare of staffers of the agency. "In the course of the investigations by the coalition of CSOs, it was discovered that the genesis of the call was from disgruntled sources, mainly those who are not happy with some of the new initiatives introduced by the executive secretary upon assumption of office in 2019."