TRULY, JEGA WILL SOON BECOME THEIR ENEMY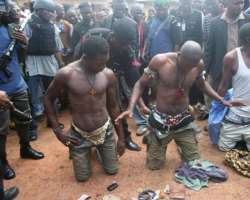 PHOTO: MILITANTS ARRESTED AT IJAN-EKITI ON APRIL 25. 2009, DURING THE RERUN ELECTION IN EKITI STATE.

Gabriel Akinadewo is one person, whose write-ups always fascinate me. Like several of his write-ups, the one titled; "Jega will soon become their enemy" made interesting reading. It reminds me of a story my grandfather used to tell me when he was alive.
My grandfather used to tell me the story of a bird. Whenever there is no food to eat in the forest where it lives, this bird would be singing on top of its voice; "N o kuo ngbo yi" (I must leave this forest). However, the moment it gets food to eat and ate to its satisfaction, the bird's song would change to; "Igbo yi dun" (this forest is sweet).
In Nigeria, when a system favours us, it is perfect. When it does not, it is evil. When a student fails an examination he/she never prepared to pass, the examiner must be blamed. The excuse is either because she refused the lecturer's sexual advances or he was dating the lecturer's preferred girl.
It is here in Nigeria that politicians would prefer to prepare for Election Petitions Tribunal instead of preparing for an election. We go to court to invalidate elections for flimsy reasons of red biro being used to mark voters register instead of blue biro provided for in the Electoral Manual. And when the judges rule against us, they must have been bribed. But when they rule in our favour, it is democracy at work!
In this part of the world, no story is too ridiculous for us to tell. We can never be ashamed to feed the entire world with tales like how N3 billion cash used to bribe judges was changed to dollars at Ogere Toll Gate! And more worrisome is the fact that supposed educated and enlightened people are part of these ludicrous tales.
Before Prof. Maurice Iwu was removed as Independent National Electoral Commission (INEC) chairman, I consistently maintained that Iwu's INEC was never the major obstacle to free and fair election in Nigeria. My position was informed by my objective observation of happenings in Ekiti State between 2006 and 2009, on one hand and my understanding of the nature of an average Nigerian politician on the other.
After the emergence of Dr. Kayode Fayemi as the Action Congress (AC) governorship flag bearer in Ekiti State, the remaining 15 other aspirants were distraught with the outcome of what they deemed a phony primary election. They protested the emergence of Fayemi, describing it as fraudulent. Their complaints were not addressed. At the end, 13 out of the 16 governorship aspirants (Fayemi inclusive) decamped to the Peoples Democratic Party (PDP) with their supporters. Those who left the AC in annoyance included erstwhile Afenifere Spokesperson, Prince Dayo Adeyeye, former Military Administrator of Bayelsa State, Navy Captain Caleb Olubolade, former Deputy Governor of Ekiti State, Chief Paul Alabi, Senator Ayo Arise, Mr. Dare Babarinsa, Chief Dapo Alibaloye among others. They were followed to the PDP by several other AC chieftains, including the only Alliance for Democracy (AD) House of Representative member from the State, Hon. Femi Dada.
With this development, PDP became stronger while AC was weakened. The 2007 general elections were conducted and the rest as they say is now history.
But instead of blaming their lack of crisis management mechanism for the AC's lost of the governorship election, the party leaders went to town with stories of how INEC rigged the election in favour of the PDP. Most importantly too, the AC people did not remember to tell the public that it was the same INEC that conducted the House of Assembly election that produced 13 members apiece for the PDP and AC.
Apparently in protest against the election results, 16 houses, belonging to PDP supporters were destroyed at Isan Ekiti, hometown of Fayemi. Ten houses were also destroyed in the town after the rerun governorship election of April 25 and May 5, 2009.
During the 2009 rerun governorship election in Ekiti State, several votes were destroyed while INEC office was razed. Unauthorised people, including the Deputy Speaker of the State House of Assembly and a member of the AC, Hon. Saliu Adeoti took over the Ido-Ekiti INEC office few minutes before it was set ablaze.
Apart from thugs (I still dread pictures of some of them that were arrested), unaccredited partisan "Election Observers" invaded the state, with many of them caught with Fayemi's poster. A Lagos State University (LASU) lecturer, Dr. Abubakar Momoh, who was one of such observers allegedly attacked by irate party supporters, is one of the Council members of the Centre for Democracy and Development (CDD), a Non Government Organisation owned by Fayemi. Another one, Fuad Oki is a commissioner in the Lagos State Civil Service Commission.
It was this situation that confronted INEC in Ekiti State. Ironically, the same holier than the Pope opposition politicians who did everything possible to undermine the commission's quest for a credible election were the ones who went to town to cry blue murder. For instance, when some electoral materials used during the 2007 elections were found in the bedroom of one Olusola Oladapo, an INEC Assistant Electoral Officer (AEO), it was AC leaders that first rushed to Okesa Police Station in Ado-Ekiti to press for his release. Items found on the said Oladapo included original Manual Voters Register for Igbemo ward, in Irepodun/Ifelodun Local Government, original Form EC8A, several booklets of ballot papers, ballot box, printer and several other vital electoral materials.
Interestingly, how the invasion of Ekiti by thugs, fake and partisan election observers, destruction of votes and burning of INEC office would have been stopped by Iwu's INEC is one question that was never answered by the proponents of the Iwu must go campaign. Again, how Jega's INEC is going to prevent the re-occurrence of what Ekiti was made to go through before, during and after the rerun election is an issue no one is talking about now.
Today, Iwu is gone and Jega is on the verge of taking over as INEC chairman. However, whether the emergence of Jega would make election results acceptable to the opposition politicians and their allies in the "human rights" and "pro-democracy" community is a question only 2011 can answer.
Nevertheless, I can say with a measure of certainty that we are going to be fed with the rigging theory again. This is because I have not stopped being agitated as to how prepared the opposition parties are. As I write this, no one is talking about any presidential aspirant outside the PDP. No one is talking about the fact that the All Nigerian Peoples Party (ANPP) had four governors in 2007, now the party has two. Even those in AC, the noisiest among the opposition parties are still not sure of the identity of the party under which they will contest elections in 2011. Last week, I read in the papers that a change of identity was being contemplated by the AC leaders.
Therefore, discerning minds should by now begin to imagine how vociferous the opposition parties will be in their cry of how PDP "rigged" the elections and how much noise of "Jega must go" will rent the air after the polls. 
Olayinka is a Special Assistant on Media to Ekiti State Governor.
 
Disclaimer:

"The views/contents expressed in this article are the sole responsibility of the author(s) and do not necessarily reflect those of The Nigerian Voice. The Nigerian Voice will not be responsible or liable for any inaccurate or incorrect statements contained in this article."
Articles by thewillnigeria.com