Ex-Gov Nyame's Trial Begins As Prosecution Witness Testifies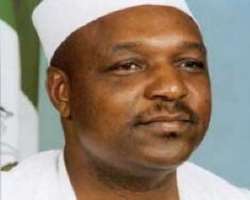 PHOTO: FORMER TARABA STATE GOVERNOR, MR. JOLLY NYAME.

San Francisco, June 22, (THEWILL) - The trial of former governor of Taraba State, Rev. Jolly Nyame began at an FCT high court today as the first prosecution witness took his turn to confirm the authenticity of the documents tendered by the Economic and Financial Crimes Commission, EFCC, as evidence.

Besides, the trial judge, Justice Adebunkola Banjoko also granted the anti-graft agency leave to make another presentation of documents needed as evidence against Rev. Nyame.

While ruling on the admissibility of documents presented by the EFCC, the judge said that the documents would need to be re-tendered in line with the Supreme Court ruling on the matter.

EFCC had on Wednesday, June 9, 2010, filed a 71 page additional proofs of evidence against the former governor over his on-going trial in a case of a scam preferred against him in 2007.

Nyame who is being tried on allegations of stealing, criminal breach of trust, diversion of public funds, bribery and misappropriation of funds amounting to N180 million belonging to Taraba State government is facing a 41 count charge for fraudulent award of contracts and receiving gratifications.

Immediately after the ruling, a compliance officer with the Zenith Bank Plc, Olubunmi Ogunode, who is the first prosecution witness told the court that he was not under any pressure from the EFCC to release documents being tendered as evidence, stressing that they were released to the commission based on his responsibility as a compliance officer.
The witness revealed that from bank records available, several millions of naira were lodged into the accounts of Abdulsaab Int. Ltd, and Taraba State Liaison Office. Specifically, the sum of N165, 000.000 million naira was on 14 February, 2005 lodged into the account of Salmon Global Ventures Ltd. by one A.S. Umar, an aide to the former governor.

He disclosed that EFCC requested for certified true copies of the documents and that the original copies which were in the archives of the bank, would be provided on request.

Ogunode further clarified that the seeming discrepancy regarding the dates of forwarding and certifying the documents, was because they were done on different dates as EFCC had notified the bank that the ones earlier forwarded were not certified. The case has been adjourned to Thursday June 24, 2010 for further hearing.