WE MUST SAVE THIS DEMOCRACY FROM OBASANJO – BAFARAWA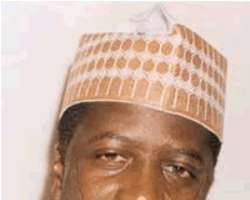 Bafarawa
Former Governor of Sokoto State and presidential candidate of Democratic Peoples Party, [DPP]  in 2007 election, Alhaji Attahiru Bafarawa has called for concerted efforts  among politicians to save democracy, from forces bent on stalling its growth, to attain selfish motive.
Speaking with Daily Sun in an interview, Bafarawa points fingers of scorn in the direction of former president and Chairman of the Peoples Democratic Party Board of Trustees, [BOT] Olusegun Obasanjo.
In this explosive interview, the former governor gave details of how the former president ran all the viable opposition parties aground, while lamenting that certain political gladiators in the polity are bereft of enviable principles.Excerpts:
What have you been doing, since you left office Well, I think I have been doing a lot, since I left office in 2007. You know I took sabbatical leave, I was in one American university as a visiting scholar  for two years. Coming back here, preparing for democracy in 2011 and also taking care of my family and friends, see what is going on in my country. So, there are lot of things I have been doing, since I left office, even more enjoyable than when I was in office.
Are you comfortable with developments in the country, on the political field
Well, a lot has been happening, which leaves much to be desired. So, which aspect do you want me to comment on?
Government generally, Sokoto since you left and the central government.
You see, coming back to Nigeria government, in the last three years, at least we can say that they haven't achieved anything for the electorate to be proud of. Talking about seven point agenda, I haven't seen anything—after late Yar`Adua. What are they going to give us for the remaining eleven months for them to go?
It's, unfortunately, the way and manner PDP has been playing on the intelligence of Nigerians .What next are they going to do for us after Yar`Adua?  Now, the issue they are concerned about now is zoning, forgetting the responsibility of the party to Nigerians. What has Jonathan got to offer, to lift the plight of Nigerians. To hell with this agitation over  zoning. What has PDP got to offer Nigerians, at least, on power, security, transport, education—all these are the necessary things for ordinary Nigerians to enjoy. But for the last ten years under the leadership of PDP, Nigerians haven't seen any light to celebrate that yes, democracy is in place in this country.
Are you comfortable with the administration of the incumbent governor of Sokoto
Well, as far as I am concerned, I have made it a duty that I am not going to comment on my younger brother, whether he is performing or not performing, I would be the last person to comment on what he is doing. I want to leave that to people to assess his performance, but I am not going to do that. The only thing I know is that I was once a governor of the state, he was my deputy for seven years.
So, there is no way I would come out to appraise his stewardship. I have made that promise that I would never do it.
But has he tried to seek for reconciliation with you
Whether he is trying to seek reconciliation with me or not, as his former boss, as his former friend, that is immaterial. As his former boss, I have made it a policy not to speak about his administration and I am trying to keep my words.
Between the time you left office and now, if you were to juxtapose, do you have enough time for yourself now, unlike when you were in office as governor
As far as I am concerned, there is no difference. A lot of people say they feel relaxed after leaving office, but I see no difference. You are there to serve people, whether you are governor or not, provided you  live with your people, you continue to serve them in different ways. So, while I was in office I was always in midst of friends and associates and the needy who were looking for help and I am still doing that. So, this is just a responsibility that as somebody who is a leader to continue doing, not only when he is in office.
Most governors, when they leave office find it difficult to adjust to their environment: no siren to clear the road, unlike while in office. How do you cope with these challenges
You see, I was one of the governors who stayed in their private residences. For the eight years I was in office, I didn't leave in government house, I stayed in my house and you can call any Sokoto man, I drove myself in Sokoto town, going round everywhere without security.
So, I can not see any political threat from the same people who elected you, you were elected to work for them. So, I don't see any reason why you should come and cage yourself, unless you know you weren't sincere with what you were doing, that's when you need much security around you. If you know that at the end of the day, you come and meet them again, so why put too much security around you? With same people who voted for you? That's why I decided not to live in government house; I decided  to stay in my house, live with my friends, the same people I lived with before becoming a governor, I didn't change friends, I still maintained my friends. So, I find it very easy when I left office.
Right, now when I am in Nigeria, the right place I want to stay comfortably is Sokoto. I don't want to stay anywhere, except I am in Abuja. But most of my time I stay in Sokoto. Therefore, I feel that I am part and parcel of my constituency. So, I feel save in my state. All those raising alarm over their security, unless you have done some bad things while in office, that's why you say you aren't wanted in your state, you start hiding your face.
If you were good to them, I think you are save.
President Good luck used to be your colleague as governor. Now that he is President, have you been able to see him and probably offer advise to his government
Of course, yes .
What did you discuss with him
When we met, at least as a colleague I prayed for him, for God guidance and that's what I did. I didn't go there to look for contract, or appointment. I was there to talk to him as a friend, we related well when I was governor. We discussed way forward for Nigeria. That's the only thing that took me to him and I would continue to make myself available, whenever he needs me.
Your party lost the last election in Sokoto, which you are still contesting. How prepared is DPP for next election
Well, we didn't lose the election, we were rigged out. The case is in court. What we are looking for is for justice to be done.
Now, you know we are in court and some people are trying to do what they don't have the constitutional right to do. So, we are still waiting for them to see what they are going to do for the sake of democracy and justice.
Do you suspect any foul play
Well, this matter  is in the domain of the public, everybody knows what is happening. So, it isn't for me to pass judgment.
You left ANPP to float  DPP; now with benefit of hindsight, do you think that your judgment, was politically wise
If you were following the history of ANPP, I didn't leave ANPP, I  was driven out of the party and as a principled politician, I decided not to join any political party. So, we decided to form our own political party. You can see that part of DPP is ANPP. So, we didn't leave the party, we were driven away.
Driven away? By who?
Of course, the leadership of the party, under Don Etiebet. You know, I was a serving governor, he came to Sokoto with a committee he set up to investigate ANPP in Sokoto.  With the collaboration of Obasanjo and some of my colleagues who were then serving governors, they set up a committee, came to Sokoto. Myself who was the sitting governor, who handed the party  leadership to Etiebet, at least courtesy demands that whatever that's going to happen in my state chapter of ANPP, I should be informed.
But they set up a committee to go and investigate the allegation leveled against the party leadership of the state, my deputy was at the airport to receive the committee! After two- to - three days, they went back with the report, they called a committee and then they dissolved the state chapter of ANPP, without even telling me.
That was what made us to leave the party and since they don't like us we decided to form our own political party under the leadership of General Useni, who is still the chairman of DPP. So, you can see that it is a faction of ANPP that formed DPP. We didn't leave ANPP,we were driven out.
But  would you go back,  if a new leadership, after ANPP convention slated for next month, decides to offer olive branch to those of you who left
You see, the damage has been done. What Obasanjo did to this country is a disaster. He was the person who destabilized democracy in this country.
ANPP was an opposition party and he put his legs and hands to make sure that he ruined the party and that's how today the party is in serious mess.
He used the party leadership under Don Etiebet to kill ANPP.
So, I don't think ANPP is a party that somebody can start talking about now.
We started with nine governors, even those  governors elected under the party platform, they are defecting. So, you can see that the party exists now only in name.
Having finished Alliance for Democracy and All Nigerian Peoples Party, he wouldn't stop there. He has now moved to his home, that's Peoples Democratic Party and he is about scattering that again ! So, definitely he is threat to democracy and good governance in this country, because everything, all the battles you have seen to undermine democracy and good governance in this country, Obasanjo is the major suspect.
There is no way democracy would move in this country without opposition, because without opposition there is no democracy. So, anybody who wants to kill opposition is killing democracy. The only thing I would urge my colleagues politicians, let us promote opposition, so that democracy will grow.
There is no reason for me, leaving my party going to another party, when I   have my own ideology. I am not in politics to make money; I am in politics to help democracy to grow, to help my people, but unfortunately most of our people are in politics to make cheap money, without working for it.
That's why today, when they lose election, they quickly move to another political party! Look at people like Atiku, somebody who had gone back to PDP, after the shoddy manner he was treated. He has forgotten that,because he is in politics for personal ambition. The same person who stood on a podium and abused PDP, publicly and he is back in the same party!
So, these are the kind of politicians we have and we should start watching them, but unfortunately for Nigerians those politicians are the people who have money and they are the ones controlling everything.
In Nigeria, if you don't have money, forget about it! But we should follow people who have focus, because the moment we follow money bags politicians, there will not be democracy, no development in this country. Any country that undermines democracy is bound to collapse.
On a final note; there has been speculation that President Jonathan would contest the 2011 presidential election. If he were to seek your advise on this: what would be your candid advise
My candid advise, for Jonathan, would be not to contest . He has the right to contest; nobody can stop him. It is his constitutional right to contest, but as a  leader who wants to build democracy, who wants to bring justice and fair play, he should keep himself away from the contest, since he has promised Nigerians free and fair election. After that he is still young and by the time he delivered on his promise, nothing restricts him from coming back to contest.
But for the sake of bringing peace and stability to this country, I think he better be a good leader: a father to Nigerians and make sure that the damage that has been done to this country, let him be the person who is going to repair it. All he has to do is to leave a legacy of free and fair election in this country.
That's better for him than to become a president for eight years. He should stand firm and make sure that he conducts free and fair election in this country. I am sure that Nigerians would praise him for the rest of their lives and his name would be written in gold.