Security Guard Washed Off In Delta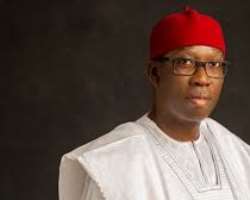 A security guard, Mr Chinedu Igboke, has reportedly been killed when rampaging flood swept him away while trying to control traffick at Akpo Junction Okpanam Road area of Asaba, the Delta State.
The incident which threw residents of the area into mourning occurred during Monday's heavy downpour in Asaba.
Chinedu, believed to be in his 30s was working as a security guard at a private school (name withheld) located along the Shekinah Love Assembly Street, Off Ralph Uwechue Way, Okpanam Road, Asaba.
The incident happened when the deceased who hailed from Ebonyi State was still on duty.
Some parts of Asaba, the state capital, were flooded on Monday following several hours of rains. The rains did not subside until late Monday evening.
It was gathered that the victim was controlling traffic along the Shekinah Love Assembly Street following gridlock along the Okpanam road when the incident reportedly occurred.
The deceased was said to have mistakenly placed one of his legs and fell into a manhole in the area, and was immediately swept away into a storm channel.
Where he fell was believed to be the central manhole in the area collecting water to the storm leading to the Anwai River onward to the River Niger but has been covered by weeds.
Chinedu, who was said to have hit his head against concrete walls of the gutter had not been found as at on Monday evening.
A source said, "When he fell into the water, he slammed his head against the concrete walls of the gutter. So he might have lost strength to swim against the tide before being floated helplessly into the tunnel."
According to the source, the school authority where Igboke worked as security guard, mobilised divers and swimmers to comb Anwai River in futile search of the body.
"We suspect that the body maybe hanging somewhere along this tunnel because of blockade inside. We went with them to the river but they could not recover his body," the source added.
Efforts to speak with the management of the school and the State Commissioner of Police, Mr Adeyinka Adelek on Monday proved abortive.
But a source in the school confirmed the incident to The Nigerian Voice on Monday, saying that divers were still searching for his corpse.
On Wednesday evening, news filtered in that the body of the deceased alongside another child has recovered.
In his reaction, the state government said residents should apply more caution while passing the areas where construction works are still ongoing.
The commissioner of Information, Mr. Charles Ehiedu Aniagwu said during a Post Exco press briefing.