GETTY TAPS INTO FLICKR SNAPPERS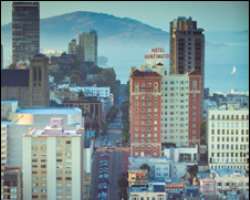 Shots taken by amateurs could become part of Getty's stock archive
Flickr's 40 million registered users are being given the chance to make money out of their snaps.
For two years, Getty Images has tapped into more than 100,000 photos taken by professional and semi-pro photographers who post on the site.
Now the doors are being opened to all Flickr users as Getty takes advantage of a library of four billion pictures.
"Flickr users are the eyes of the world," Douglas Alexander, Flickr's general manager, told BBC news.
"We have contributors from over 100 countries and images are coming in from every corner of the globe. This deal broadens the horizons and the global marketplace for commercial photography and gives our users the chance to make some money."
Neither Getty nor Flickr were forthcoming about actual rates saying they vary from job to job but are industry standard. It is generally thought the average rate for an image is between $150-$240 (£100-£160).
'Eclectic'
The agreement extends one that has been in place for the last year with photo library Getty.
Under that deal, Getty built up its stock or archive photography base with pictures taken by pros or semi-pros posting on Flickr. These were then sold on to the firm's commercial clients and photographers were paid the industry commission rate when their images were used.
Getty's chief operating officer Nick Evans-Lombe said Flickr had been a great resource and inspiration.
"One of the great benefits of the Flickr collection is that it is truly eclectic and has this fantastic broad reach across the globe."

Hal Bergman has managed to turn a hobby into a job
Mr Evans-Lombe said the strength and diversity of what Flickr could offer was apparent during one call for photographs portraying the concept of families.
"We got over 17,000 pictures back from around the world very quickly. That gave us a very broad and deep illustration of the concepts to do with family and will resonate in countries around the world.
"In the past, one of the criticisms of the stock photography market is that it has been a mostly North American and European aesthetically dominated industry."
Mr Evans-Lombe also said another great asset of the collection was that it was "more gritty" because the photographs are not shot for commercial services and therefore have more authenticity.
"The extension of this partnership is a testament to the talent of our Flickr community and we want to provide a platform for our members so they can get their work out there to the largest possible audience," said Mr Alexander.
'Floodgates'
Hal Bergman dreamt for years of turning his passion from a side-line into a full-time career. He started posting his photos on Flickr in 2006 and said this partnership has been a fruitful one for him.
"I have been doing this for six years on the side and a year and a half ago I gave up my day job in website development."
And while staying mum about how much he actually earns, Mr Bergman told BBC News he makes a good living from photography.
"I am working as a freelance and getting a lot of commission work and I would say this deal brings in about a third of my income which is pretty good when you consider I have 200 images on the Getty site and a further 2,500 on another site."
This week he has been shooting photos at a frat house in Los Angeles and a Hollywood party.
Mr Bergman said while he is managing to get himself established, he is concerned about how the opening up of this partnership will affect him.
"This deal helped me get my foot in the door with Getty, something I had been trying to do for years. And while I am concerned about opening up the floodgates, I am going to take it as a challenge. But I am really not worried because I like to think I am good at what I do," said Mr Bergman.
Users wanting to take part in the project will be asked to opt-in to the scheme.