UFUOMA EJENOBOR REPRESENTS AT THE GOLDEN NYMPH AWARDS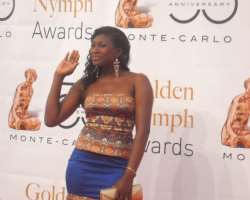 On Thursday 10th June 2010, the biggest international TV awards ceremony was held in glamorous Monte Carlo. Stars from all over the world converged as the Golden Nymph Awards were held as part of the week long Monte Carlo TV Festival. As this year marks the 50th anniversary of the TV festival, it was extra special – stars from the world's most popular TV shows including CSI, Desperate Housewives, Gossip Girl, NCIS, Spartacus, The Mentalist, Law & Order and many others converged on the red carpet and in the venue to celebrate the best of TV in 2009/2010.
Nigerian production company, Royal Roots received 5 nominations for their TV show, "My Mum & I". Ufuoma Ejenobor and Aramide Okegbenro were both nominated in the Outstanding Actress (Comedy) category. Gregory Odutayo and Deborah Odutayo were nominated in the International Outstanding Producer (Comedy) category and Gbenga Windapo was nominated in the Outstanding Actor (Comedy) category. Though they did not clinch any wins, it was an enriching and rewarding experience for all involved.
Congrats to the nominees! Great to see Nigeria represented. Hopefully it inspires them and others to improve the quality of Nigerian TV content. Big congrats to Ufuoma – its been a thrilling few months, she graduated with her Masters degree in Public & International Affairs, got married to her heartthrob and now this