Rail Transport Will Avert Road Carnage – Minister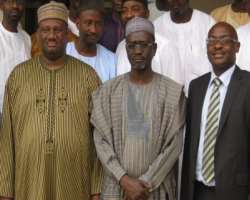 PHOTO: L-R: TRANSPORT MINISTER, ALHAJI YUSUF SULEIMAN, KANO STATE GOVERNOR, DR. IBRAHIM SHEKARAU AND MD, NIGEIRAN RAILWAY CORPORATION, ENGR. ADESEYI SIJUWADE DURING A COURTESY CALL ON SHEKARAU AFTER THE PRE-INSPECTION VISIT OF THE KANO RAILWAY STATION.

KANO, June 19, (THEWILL) - The Minister of Transport, Alhaji Yusuf Suleiman has said that intra city rail services, which are undergoing revival, will ease the burden on road transportation in the country and subsequently conserve energy, so as to reduce our road carnage.
Suleiman, who stated this, during his inspection tour of facilities and rehabilitation of projects at the Nigeria Railway Corporation (NRC) in Kano on Thursday that the revival of rail transportation in the country became imperative, and pointing out that when the intra city service fully takes off, the revenue to be generated will be enormous.
The Minister said that already some wagons, which have been rehabilitated and a brand new locomotive engine, with the inscription of Umaru Musa Yar'Adua will soon be commissioned by President Goodluck Jonathan.   
Pressure on our roads, he said will be drastically reduced, while people living in the city will take advantage of the revived mode of transportation by keeping their cars at home and take a ride on the train.
Suleiman, explained that the new system will save energy, adding that Nigerians will enjoy a hitch-free transport that will be less dangerous, when compared to road transportation, which often results to accidents, due recklessness of some drivers.
"The intra-city service can only work, if the public responds positively. NRC will embark on a sensitization campaign in the country in order to inform people that the intra-city service has been revived."
He said, parents should be cautious of exposing their children to danger in the course of transporting them to school by the use of motor bikes, which he stated is risky, and urged parents to adopt the train services, which is safer and comfortable.
Parents, he stated will be relieved of the burden and apprehension of sending their children to school if they avail themselves with the opportunity of train services.
In his speech on the occasion, the Managing Director of the NRC, Engineer Adeseyi Sujuwade, said the introduction of the mass transit train service will cover the six geo-political zones, while about 64 operational staff have been employed for the various stations, which stressed will open up business activities at the rural areas.
He said, the mass transit service will not only reduce traffic congestion on busy routes but will also facilitate the evacuation of produce from the rural areas to the urban areas.