ABIOLA DESERVES HONOUR – DUROJAIYE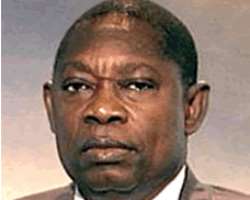 Abiola
Senator Olabiyi Durojaiye served in the public service for 35 years, in the Western Region and at Federal Government level. He was an executive director at the Nigerian Printing and Minting Company and had a stint in the banking sector.
An experienced lawyer and politician, Durojaiye believes in practical leadership. He told Saturday Sun , that the annulled June 12, 1993 election set the country back. He also spoke on other things.
Nigerians are remembering June 12 election. What does June 12 mean to you?
June 12 is a catalyst and hallmark in the political history of Nigeria. It was a day when the progressives of this country got to the seat of power, but unfortunately, they did not sit on it. Papa Awolowo was a respected man and a progressive politician, but where he had an opportunity to operate, it was only in a part of the country, the Western Region. He never had the opportunity to sit at the federal level. That was the greatest the progressives ever had. So, June 12, reminds me of the struggle to achieve a better Nigeria.
As an active participant in the struggle for the revalidation of the annulled June 12 election, what do you remember most about it?
Really, I remember that we won and lost at the end. We were not able to put what was contained in our manifesto into practice. The most painful aspect of it is that we did not accomplish the people centred programme that we wanted to put in place. As a result, a good number of us suffered; some died; some were incarcerated, while some went into exile. If the programmes of the Social Democratic Party (SDP) were carried out, Nigerians would not have been suffering today.
These are the memories of June 12. I have no bitterness because, as a practical Christian, I believe that nothing happens without the consent of God. It was an experience and a sacrifice I had to make for my country. I thank God that I am still alive and it was after that time that I was able to serve the nation at the national level. Again, someone blocked our remaining chance to continue with the good work we started. In that respect, should I take a gun and begin to shoot? Actually, we lost the game, but I have no regret.
Do you think June 12 should be declared a public holiday?
I do not want to recommend any additional holiday in the country because we have many of them. But June 12 is so significant that the Democracy Day being celebrated on May, 29 should be shifted to June 12. And if that is done , I believe that it will be better.
What do you say to the call by Babangida that Abiola should be immortalized?
The call is in order and I support that Abiola deserves to be immortalized because he sacrificed his life for the interest of Nigerians. Shehu Musa Yar'Adua also died as a follow up of the struggle and at least, more recognition had been given to him than to Abiola.
Judging by the role Babangida played in June 12 election annulment, people are saying that it was hypocritical of him to call for Abiola's recognition. What do you think?
For me, that means nothing. A good thing is always good, no matter where it comes from. If some people were in control for more than 15 years and never remembered that such thing could be done, if anybody says it, I think it can still be done. Take, for instance, if you were hungry and your mother prepared food for you and instead of sending it through your friend, she sent it through someone you do not know, unless you have reason to suspect that the person may have poisoned the food, would you reject the food? In fact, I don't see what such thing has to do with who suggested it. You know when we want to operate at the national level, we need to have a good mind about things. I could remember that Tai Solarin said that even if it is the devil that gives you scholarship, you should take it; after all the most important thing is to acquire knowledge.
Are you satisfied with the constitution amendment exercise?
Though it is a little improvement on what it was, that is not the real thing. I see it as a 'patch-patch' thing. It is just like amending a road, instead of rebuilding it, and when the rain falls, it will be washed off again. What we need now is not constitution amendment, but a national conference. We have been saying this for a long time, right from our NADECO days, that we should have a national conference, whether it is called sovereign or not. In the conference, we will agree on those things that would make us administer the country better. What we are talking about was done by Americans, who sat together and prepared a constitution for themselves.
We did something like that before, from 1988 to 1989. I participated in it, but it was not promulgated into law and therefore, was not used. We have the 1979 constitution. It would have been 1989 constitution, before the 1999 constitution. Constitutional issue is something the people should be involved in. There is no how they can do a thorough job on the constitution. In fact, the National Assembly has a lot to keep it busy. They should go to the fundamentals, which need more time and resources. How many people did they invite to contribute opinions to what they need?
Should Goodluck Jonathan run for president in 2010?
Why can't he run? Is he not a Nigerian? Is he below the age requirement? Has he been certified bankrupt? Is he certified to have a mental case or has he been imprisoned for 20 years? If he has been found guilty before, he should not run, but if he has not, he should run. It is his constitutional and fundamental human rights.
What about the zoning arrangement?
There is no constitutionality in zoning system and I have always criticised it because it does not make for merit. Merit should take precedence over where you come from. The earlier Nigerians begin to think big, as a big nation, the better it will be for us. We must develop bigger hearts and have a wider horizon, not just being parochial and narrow minded. We can imagine what the country lost by not having someone like Awolowo as president, having seen what he did in the western part of Nigeria. Also, look at the good job Bola Tinubu did in Lagos State and the one Fashola is doing. Should we say that if such people are available, they should not use their talents at the national level because they come from the wrong quarters? In fact, we have not start reasoning as a nation yet and that calls for a national conference.
What is your position on electoral reform?
I recommend that much of the Justice Muhammed Uwais recommendations should be adopted. Now one question that is not being treated is the issue of two-party structure. The House defeated it. Two-party structure is what is best for us. It gives the people the opportunity to make a choice. Also, it helps to have credible election. The issue of voters' register should be taken more serious. It is important that you and I must have our names, thumb prints and photos in the voters' register, to make sure that our votes would count.
What do we expect in 2011?
What I am seeing about 2011 is frightening. I don't want a situation where it will be a PDP issue alone. If it happens, it means the people have no choice. We need an alternative platform. At the end of the day, if the best candidate comes from PDP, then the people will vote for him. For me, what is important is voting for someone who would make Nigeria move forward.