AGONY OF WOMAN WHOSE ONLY SON WAS KIDNAPPED 10 MONTHS AGO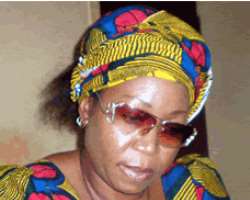 Ngozi
For Mrs Ngozi Ezeudu, an educationist, life has become meaningless as she has waited with anxiety for her only son, Lotachukwu, who was kidnapped on September 26, last year to return home after the family had paid ransom to the abductors of the 200 level accounting undergraduate of the University of Nigeria, Enugu Campus, to no avail.
Ezeudu, who came to Saturday Sun Enugu office to make a passionate plea to Nigerians to help her in the search of her son, narrated how Lotachukwu, disappeared a day after three of his friends visited him.
According to her, the police have been able to arrest some of those suspected to be involved in the kidnap of her son, among who are Mr Ernest Okeke, Nnaemeka Chukwu and one Okada rider. While Mr Desmond Ibezimako Chinwuba, an ex-policeman, alleged to be the mastermind of the kidnap, and his co-conspirator, Uche Moses Amajor, are said to be on the run. The police in Enugu have since declared Chinwuba and Amajor wanted even as Okeke and Chukwu are being prosecuted for armed robbery and kidnapping.
Ezeudu, who wept intermittently told Saturday Sun , that the last time she spoke with their son was when negotiation for ransom with the kidnappers took place last year and his abductors only allowed him to say, 'good morning mummy.'
She believes that Nnaemeka, who appeared in court last Tuesday, could give purposeful insight into the whereabouts of Lotachukwu. She, however, alleged that Nnaemeka's father, Mr Sam Chukwu, a Divisional Police Officer (DPO), is throwing his weight around, preventing the proper arraignment and prosecution of his son.
Overwhelmed with grief, she narrated her story thus:
'We are here because of our son Lotachukwu Ezeudu, a- 19 year old third year accounting student of University of Nigeria, Enugu Campus. On September 25, 2009, my husband and I travelled and when we came back late in the evening, we were told that three of his friends visited him namely; Nnaemeka Chukwu, son of the DPO Awkunanwu police station, Henry Nnaruo, who came in from Awka that evening and Emeka Onyiudo. All of them were his secondary school classmates. His sister said that he was excited to host his friends and Nnaemeka in turn said he would host him the next day in his house.
Meanwhile, that evening, he also told his sisters when a text message came into his phone and he checked and it was airtime (recharge card). Somebody had loaded his phone and when he checked the name of the sender, it was Nnaemeka Chukwu's uncle, Mr Desmond Chinwuba, a suspended police officer. At the time, we had not known Desmond's background because Nnaemeka used to say that he was his father's Personal Assistant (PA), so his classmates knew Desmond as his father's PA until the sad incident of September 26. My son had told the sisters that he was going to ask Desmond the next day if he made a mistake to send airtime into his phone instead of another person's phone because he was not that familiar with him.
Desmond, who he calls Nnaemeka's uncle, had begged him to come that September 26 to help him buy a laptop because my son is very good at this laptop and Internet, which he does as a hubby. So, he said he was going to help him to buy it, programme it and all that. The next day being September 26, he went out with his father and came back at 4.05pm. Then he rushed into his room, changed his clothes and wanted to dash out when I called him back and asked if he wouldn't take his lunch. He said no that he was coming back soon, that he was going to the Chukwus house to see Nnaemeka, who invited him and also help Desmond to procure the laptop he asked him to buy for him.
So, the father said if you are going to carry a laptop, you won't carry it in your hands, take the vehicle so that you can buy it, drop it and come back fast. When he left his food, was still on the table. By 6.oopm, I went out to see a friend who was going for knee surgery and after 8.00pm my husband started making phony calls to me. I thought he was doing that because I was out late. Then I rushed home immediately only to see everybody in a very sad mood.
I looked and didn't see the car my son went out with. I thought, probably, there was an accident and started panicking. But they said no, they didn't know what had happened to him, that he had not returned and didn't call anyone on phone. They said that they couldn't reach him as his phone was switched off. That was unlike my son. He grew up among five girls. He is the only boy amongst five girls, so he grew up behaving like the girls. He doesn't stay out and he didn't keep company.
So, we all grew worried because that was the first time in 19 years that he had ever stayed out late. I told the sisters exactly where he said he was going and they said they knew the place. They took me to the place at some minutes after 9.00pm. I knocked at the gate of the house and an officer on duty came out. I told him that I wanted to see the son of the owner of the house and he went in and called him. I asked Nnaemeka, where is Lotachukwu? He said he didn't see him.
You didn't see Lotachukwu? He said no, but you called him, and he said yes, that he called and told him not to come again, that he was watching football somewhere. I said okay, who is Desmond? That he mentioned your name and Desmond who was supposed to buy a laptop for the brother or whatever and a figure came out from the darkness and said that he was Desmond. I said okay, where is Lotachukwu? He said that he didn't see him and I asked what he meant that he didn't see him. He said specifically that he was coming to Sam Chukwu's house? Nnaemeka called him, you called him, then all of a sudden none of you saw him, where is Henry that came in from Awka? He said he was no longer around. So, all of you just changed your programmes overnight? He said I should go and ask Onyiudo, that Onyiudo was with them watching football.
When I was about losing my temper, my daughters said there was no time, that we should go and see if he is at their centre. My son is a member of Opus Day and he normally goes to the centre for retreat or prayer. But it would be quite unlike him to go there and switch off his phone without telling the family. When we got there, they said they had not seen Lotachukwu in the last five days and I became hysterical. They started comforting me because I knew something was wrong with my son.
I knew they had done something to my son. From there, I drove into the campus to see whether something took him there but I didn't see any sign of him. I spoke with the security people on duty to no avail. From there, I went from one police station to another and they took me to their cells but I didn't recognize anybody. Then I went to the hospitals' casualty department to know whether something happened to him. I ended up at Park Lane ESUT Teaching Hospital around 12 mid night and the nurses said they didn't see him. Before morning, around 3.00am I called Onyiudo's mother on phone and said please, did your son see my son, Lotachokwu because they said I should ask your son, he is the alibi, he knows they were watching football and Lotachukwu was told not to come again? The woman was sleepy and said no.
Around 5.00am, I drove off again and went down to Timber Shed to see if I could see the car and in the process I called the woman again and asked her if her son had seen my son Lotachukwu. She screamed and said she was thinking I was talking about my phone instead of my son. She asked me where I was and I told her. She said I should wait there that she was coming. She came there with the son and I asked him what of Lotachukwu and he said he didn't see him. I said he was supposed to come to Nnaemeka's house and he said yes but that they were somewhere watching football. And I asked where did my son go? He said he didn't know. So, we drove back to my house.
By the time we got to my house, Sam Chukwu's son was already there as well as my mother, some relations and friends. And they started asking the boy again and he said he didn't see my son. Then we moved in my friend's car down to the father's house and I was wailing. I told him the whole story and he said he will call the stations to commence announcement about a missing person before 24 hours. From there, we went to the station and as they were doing that somebody gave us information that they saw a car parked at 9th Mile corner. I sent my daughter and my brother to go and check and when they got there, it was our car. I now reported to the police and they dispatched an officer who helped to bring back the car from 9th Mile.
And 15 minutes after that my husband said they have already started calling him for ransom, which means they were around there watching us take the car back. They started with outrageous amounts in dollars and my husband told them he is just an artist and has nothing to do with dollars. In the process, he told them you have taken my son and you want me to give you money to release him, I will give you what I have, I don't keep money, I am not a contractor. They were calling us with my son's phone, which means that Desmond put the credit for those who will take away my son the next day.
Everything was well planned but luck ran out on them when my son gave us the details of where he was going, which was not part of their plan. They loaded the phone in the night, they visited him a day before to make sure he came out and kept calling him to the extent that he didn't take his lunch and went out. His food was on that table for two days, I didn't have the heart to throw away the food. I was still hoping that my son will come back to take his lunch. Then after some days, Nnaemeka came and I asked him, what of Lotachukwu, what actually happened to Lotachukwu and he kept quiet. After a while, he said, 'have you asked Desmond well?'. I asked what he meant by saying that. You go back and ask Desmond well. I will not ask Desmond anything, if you know anything you tell me, if it is to go and ask Desmond, go and ask him, whatever Desmond is up to, just tell him that I don't want to look for a hair on my son's head.
He now kept quiet and left. He was frequenting my house and asking me how far, what of the investigation, anything yet? But as a teacher that I am, a pupil cannot outwit the teacher, so I knew what he was coming for and I kept on trying to get whatever I could from him and also sending out whatever messages, thinking that it was a normal kidnap and after sometime they will take money and release my son, not knowing that it was something else. Later on, they got through my husband, kept on pressing him and they agreed on an amount.
During the period we were trying to unravel the mistery, we now discovered from Trans-Ekulu Police Station that Desmond was a suspended police officer and not Nnaemeka father's PA,that he was involved in a kidnap case and was on bail when he now kidnapped my son. Why Nnaemeka was hiding this from my son and his other classmates, I don't know. When I discovered this, I invited about six of his classmates and I didn't tell them why I invited them. I simply asked them, who is Desmond and all of them echoed, he's Nnaemeka's father's PA, which means that they were all deceived byNnaemeka.
After that, people were warning us not to do anything, that very soon they will release the boy because that time they had taken ransom from us. The thing just came suddenly and out of confusion and panic ransom was given although the police blamed us for giving without coming to them but I have never had such an experience and the panic and trauma were too much. I felt that if this is given for my son to be safe, let him be safe, I didn't want to take chances. But at the end of the day, after the money was given, my son was not released.
I insisted, on two occasions, that I speak with my son. But they didn't really allow him to say anything. He just said,' good morning mummy' and on one occasion, they allowed him to speak with the father and it was the same good morning daddy and they switched off the phone.
After the collecting the ransom, we never spoke to our son again. They switched off all the lines they were using during that period because it was only on that Sunday that they used my son's phone from morning till night. From the next day being Monday,they started using other lines. We waited while the police were doing some investigation here and there. Through one of their classmates, I heard that Desmond was about to leave the country and I told the police that Desmond wanted to run away and they said no they will some pick him up. But in this process Desmond disappeared. They called Desmond severally and he didn't go. They were preparing to go and pick him up when he disappeared. Then Chukwu's son went and gave his own statement and said that yes, he called my son, but he told him not to come, that he was going to watch football somewhere.
But from the MTN print out, Desmond called my son five times on that day and Nnaemeka called my son at a given time they must have picked my son because he left my house by at 4.10p.m. They drove him to Prosper Hotel and later on we discovered that the son of Prosper Hotel is among the gang and at that time Prosper Hotel was an unfinished building. Secondly, the Etisalat print out indicated that it was around our area, that is Trans-Ekulu, Phase 6. After that 4.10 pm, the vehicle was able to get to 9th Mile at about 5.25pm. An eyewitness saw the two persons that dropped the car as they crossed over the road and came back to Enugu. And not only that, a small girl of eight years saw the vehicle at Damija area coming down from Phase 6 and the next day the small girl was telling my little girl, I saw that car your brother drives, but it wasn't your brother, it was a short dark boy and a tall boy in front and they were moving out of Trans-Ekulu. So, that also told us that the car also went into Phase 6, came out and now went to 9th Mile and they now called my husband to tell us that they have taken my son to Awka and from Awka they will take him to Akwa Ibom and Bayelsa and if my husband doesn't co-operate he will now go to Bayelsa to take his body.
It is not a normal kidnap; my son is a very disciplined and quiet boy. My confronting Desmond in Mr Chukwu's house and asking him, where is my son, told them that we must have known everything that transpired. Desmond disappeared like I told you, but during the course of interrogation and investigation, they were able to pick other members of the gang like the one that called to ask for ransom, Ernest Okeke. He is an ex-policeman from Awgu. He is in prison custody here. He moved to Akwa Ibom after a day or two and called again from there. As he was calling, his battery ran down and he picked another person's phone and entered the bush to make the calls and the owner asked him, what are you going into the bush to do with my phone and he said he was calling his sister in Enugu. Meanwhile Ernest and Desmond have a kidnap case at Enugu North Court 7; they kidnapped somebody in 2009. Up till now, Ernest is still denying but the person he used his phone said he called his sister and called one other person and what MTN print out read was that he called his sister and called my husband for ransom from Akwa Ibom.
The DPO's son knows everything that went on. He helped to call him out. If he is not part of it, why should he assist in calling him out? If he had told my son that these are kidnappers, nobody would have come to my house to do anything. And most of their classmates said that when they go to look for Nnaemeka and he is not around, it is Desmond they leave his message with.
That will show you how close they are. So, he deceived his friends. Nnaemeka knows what happened to my son. I am trying to be law-abiding and that is why I am going to the police for help and in the process they are protecting somebody, who knows what happened to my son. I had to go to Abuja to register the complaint and I was given a letter and told to go back to Enugu, that something will be done soon. So we are waiting for what will be done soon. All that I want is my son. They can protect their people, no problem. But let them ask him where they kept my son. That is what I am interested in. I am calling on Nigerians, good spirited individuals and Churches to start to pray for my son. I don't know where they kept my son and what their mission is but I know that with God all things are possible. That I am talking today here is because of God's grace, otherwise I would have died of the shock of what happened to my only son.
After paying the ransom, they said that I should go and park my car at the road leading to Nike Lake Hotel and that when I stayed there for 30 minutes they will call me back and then tell me where I will go and pick my son. I said thank you. When I got there, I parked and after 30 minutes they didn't call me. I called that number that they were using and it was switched off. I stayed there till around 9.00pm and my husband started calling me to come out from that place that it is a very dangerous area. But I said let me wait for some time that they might bring him out in a condition that he cannot walk, let me wait for him. So, I waited and waited until I had to leave the place. Since then they have not called again. But two months ago, they sent a text message to my mother that she should tell her son-in-law to release their boys and they will now release my son, that they are holding him in Awka. My mother sent a text to them, saying that they should release her grandson, then she will now put in words for the release of their boys, Ernest Okeke, the Okada man who was trailing me to where I dropped the money and Desmond's brother he said he wanted to buy a laptop for that they held.
Desmond and Moses Amajor are at large. There was a police release on the television, radio and newspapers declaring them wanted and financial rewards offered to anyone with useful information that could lead to their arrest.