President Buhari sends the name of Tanko Muhammed to the Senate for conformation as the CJN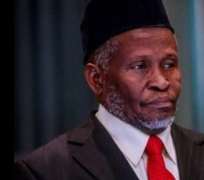 President Muhammadu Buhari on Thursday forwarded the name of the acting Chief Justice of Nigeria, Ibrahim Tanko Muhammad, to the Senate for approval as the substantive Chief Justice of Nigeria.
The Presidents request was sent in a letter to the Senate.
This is coming exactly 166 days after Muhammed started was appointed by tje president on acting capacity.
The name of the new CJN, who was appointed after the suspension of his predecessor, Walter Onnoghen on January 25, 2019, is already before the Senate, where the President is seeking approval for the endorsement of his decision as required by law.
This is coming a day after the National Judicial Council (NJC) recommended Muhammad to the President for confirmation, thus ending the controversy associated with his appointment, which challenged in court by some stakeholders.
President Muhammadu Buhari has sent a letter requesting the Senate to confirm the appointment of Tanko Muhammed as the substantive Chief Justice of the Federal Republic of Nigeria.
Senate President, Ahmad Lawan, read the letter seeking confirmation, in line with Section 231 (1) of the 1999 Constitution as amended at the plenary on Thursday, saying he was acting on the constitutional requirement for the NJC to to make such recommendations.
The President, Lawan said, pleaded with the Senate for a speedy consideration and confirmation of appointment of 15 personal aides, in accordance with Section 151 of the constitution which required the upper legislative chamber's endorsement.
The NJC had also on Wednesday recommended eight other persons as Heads of Court.
Following a meeting which was initially presided over by Hon. Mr. Justice Umaru Abdullahi, CON, the NJC said it considered and approved the recommendation of its Interview Committee that screened the two candidates presented by the Federal Judicial Service Commission to it for appointment as Chief Justice of Nigeria.