FEATURE: Nigerian Village Rues The Day The Oil Men Came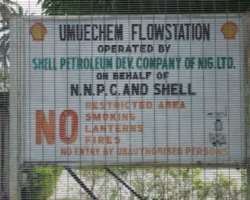 When foreign oil explorers first arrived in his remote Nigerian village, Sunday Inengite Ikpesu welcomed them with open arms thinking they were here to expand the community's palm oil trade.
More than 50 years later, the frail 75-year-old chief of Oloibiri still regrets his naivety.
"They told the elders they were looking for oil. We were excited because we thought it was palm oil," Ikpesu said sitting on his porch in his simple one-storey home close to where Shell D'Arcy, the predecessor to today's Shell Nigeria (RDSa.L: Quote), drilled the country's first oil well in 1956.
"Our happiness later turned into sorrow when we saw the oil spills."
After five decades of widespread pollution, corruption and conflict, Nigeria's oil saga offers countless lessons of what not to do as a major energy producer.
The OPEC member has seen over 2,400 oil spills since 2006, many of them left to fester in the creeks of the Niger Delta.
Its oil-stained waterways and devastated fishing stocks offer a stark warning for the United States as it tries to clean up its worst ever oil spill in the Gulf of Mexico.
Millions of gallons of oil have poured in the U.S. Gulf since an April 20 offshore rig blast killed 11 workers and blew out a BP well.
The spill has soiled 120 miles (190 km) of U.S coastline, imperilled multi-billion dollar fishing and tourism industries and killed birds, sea turtles and dolphins.
Shell's chairman in Nigeria, Mutiu Sunmonu, told Reuters comparing the Niger Delta to the Gulf of Mexico was unfair, pointing out the majority of spills in Nigeria are caused by sabotage and oil thieves tapping into pipelines.
The Anglo-Dutch firm says it is committed to cleaning up spills whatever their cause, but says armed gangs and even local communities sometimes prevent it reaching spill sites.
HISTORY LESSON
Studying Nigeria's oil history also provides cautionary tales for newer oil producers, like fellow West African nation Ghana, that are hoping to prevent the natural resource from becoming a curse for their own economies.
Standard Bank has estimated the Nigerian government received a nominal $436 billion in direct hydrocarbon revenues and taxes between 1970 and 2007, or around $1.2 trillion in today's money.
Decades of government mismanagement and corruption have lined the pockets of a small elite, while the vast majority of Nigeria's 140 million people survive on less than $2 a day.
"We regret it. Now we come to understand oil is so important," Ikpesu said, his voice growing louder.
"If given the power ... to bring in the companies that have sucked us dry, I wouldn't mind killing everybody like they killed our people with their pollution," he shouted.
COCOYAMS, HAND FISHING
Before the discovery of oil, cocoyams in Oloibiri were as big as a child's arm and villagers could catch fish with their bare hands in the local pond, according to the local priest.
"If you go into the bush, our ponds are no longer holding fish. The area with palm oil is no longer yielding," said Rev. Sunny Ikobho. "This is because of this crude oil."
The remote village, located within a 40-minute drive from the Bayelsa state capital of Yenagoa, shows little evidence that it was once the main centre of oil production in Africa.
At the side of the road to Oloibiri, a simple black stained sign says "Oloibiri Well, drilled June 1956, 12,008 feet", marking the spot where oil was first discovered in Africa's most populous country. Output from the well stopped decades ago.
Most of the buildings are small one or two-storey homes with corrugated roofs, while roads are dotted with gigantic potholes. Mains electricity is unreliable and so is the water supply.
"We didn't get any of the (oil) profits, we didn't get anything," Goodnews Ngieri, a 74-year-old farmer, said wearing a tattered old shirt with torn jeans. "This is why you see the place like it is."