We'll preserve Egba culture, heritage in Canada, newly-elected President promises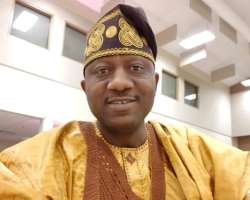 Aiku Adegboyega... President, Egba Descendants Manitoba
A sub-ethnic group from Nigeria has promised to do all within its ambit to continue to promote and preserve the culture and heritage of its people in Canada.
The Egbas, who are living in Manitoba, stressed that in order to achieve this they have formed an association where they would foster togetherness and development of their people and ensure celebration of their ancestral root.
The newly elected President of the Egba Descendants, Winnipeg, Mr. Adegboyega Aiku, stated these shortly after the election of the maiden officers of the association.
Others to participate in the new executive of the association at the hitch-free online e-voting election are Mrs. Akinola Modina (Vice President), Mr. Gbolahan Oduntan (Secretary), Mrs. Fatima Ogunfowora (Treasurer), Mr. Bode Sogeke (Financial Secretary), while Mrs. Vivian Bodunrin and Mr. Bukki Solanke were elected the Social Secretary and Public Relations Officer (PRO) respectively.
According to a news release signed by Solanke, the population of the Egbas has grown in the Province of Manitoba over the years and indeed Canada as a nation.
"In view of this, the Yoruba Egba descendants have come together to form a micro group in order to further foster togetherness, development, as well as, celebration of their heritage," the PRO said while congratulating the Egbas in Manitoba on the birth of the association.
Solanke added: "The vision of the association is to promote and preserve our culture as integral part of the diversity mosaic of Winnipeg and Canada at large.
"Provide a trail of our ancestry dynasty and legacies for future generations," he also said, adding: "The mission statement is to inspire and empower Egba indigenes, promote, articulate, interpret and preserve the Egba culture and heritage."
"Various events have been planned for the year as part of efforts to foster and promote sense of togetherness as well as to create awareness about the plight of the Egbas in Manitoba and Canada as a whole. All these will be announced at a later date," the PRO emphasised.