UN LAUNCHES $71M APPEAL FOR KYRGYZSTAN REFUGEE CRISIS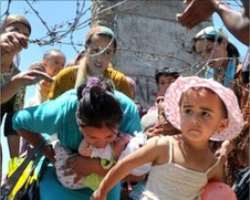 The UN has announced a $71m (£48m) flash appeal for Kyrgyzstan, where it says some 400,000 people have been displaced by inter-ethnic fighting.
The Central Asian state's interim leader believes the number of people killed since violence erupted just over a week ago may be as high as 2,000.
Up to a million people are said to have been affected by fighting between the Kyrgyz majority and minority Uzbeks.
Many of those who fled their homes are staying in Uzbekistan.
Uzbekistan's government has asked the UN to launch a similar appeal for its own camps next week.
Having accepted tens of thousands of refugees, it fears its capacity to help them will soon run out, reports the BBC's Tom Lane from the UN in New York.
'Shocked and appalled'
John Holmes, head of the UN Office for the Co-ordination of Humanitarian Affairs, is meeting donor member states, UN Secretary General Ban Ki-moon said.
The focus of the Kyrgyz appeal will be food and shelter, with the hope that the aid will last at least six months.
There are shortages of food, water and electricity, said Mr Ban, because of looting, lack of supplies and restrictions on movement.
"Hospitals and other institutions are running low on medical supplies," he added.
Mr Ban said an estimated 300,000 people were living displaced within Kyrgyzstan and up to 100,000 had fled to Uzbekistan, of whom 80,000 were located in refugee camps.
"Tens of thousands more are reportedly waiting to cross the border," he added.
He said he had contacted Kyrgyzstan's interim leader, Roza Otunbayeva, Uzbek President Islam Karimov and others "to explore options for restoring order, preventing further loss of life and coordinating humanitarian assistance".
Mr Holmes urged a "generous and rapid response" from donors.
"I have been shocked by the extent of the violence and appalled by the deaths and injuries, widespread arson, sexual violence, looting of state, commercial and private property and destruction of infrastructure," he said.
The UN Human Rights Council called on the Kyrgyz government to conduct a full and transparent investigation into the clashes.
Unknown death toll
Ms Otunbayeva's estimate of 2,000 deaths is 10 times higher than previous official figures.
On Friday, she flew into Osh, the city at the centre of the violence, to inspect the damage.
As her helicopter landed in the city's main square, she emerged wearing a bullet-proof vest and surrounded by bodyguards with automatic weapons.
Even so, the BBC's Rupert Wingfield-Hayes reports, she made no attempt to enter the Uzbek neighbourhoods of the city.
It is there that the worst of the damage was done in four days of ethnic bloodletting last weekend.
Kyrgyz men in Osh showed Ms Otunbayeva pictures of dead relatives
She said the Muslim tradition of burying the dead before sunset on the day of death meant many hundreds of victims had not been counted.
Her government now faces the difficult task of persuading tens of thousands of refugees to return to their homes, our correspondent says.
Visiting a refugee camp in Uzbekistan, US Assistant Secretary of State Robert Blake said there must be an independent investigation into what had happened.
Eyewitnesses and victims have repeatedly said that the violence was orchestrated, and many have accused soldiers from the Kyrgyz military of being involved.
Since taking power after the overthrow of President Kurmanbek Bakiyev in April, the interim government has struggled to assert its authority in Kyrgyzstan, a former Soviet republic of some 5.5 million people.