Uduaghan Kinsman Calls Ibori, Uduaghan Hardened Criminals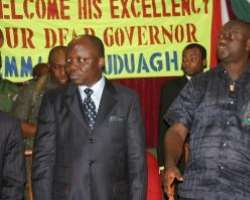 Irked by what he described as demonic looting, one of the Delta state governor, Dr. Emmanuel Uduaghan's kinsmen and former Health Commissioner of the state, Dr. Richard Tosanwumi weekend in Asaba accused governor Uduaghan of looting the state treasury without any single of remorse even as he called Ibori and Uduaghan hardened criminals.
Dr. Tosanwumi who is of the same Itsekiri with Dr. Uduaghan and chairman, Central Working Committee of Chief E.K. Clark led Delta State Elders; leader and stakeholders Forum told Journalists in the state capital in an interview that Ibori no doubt stole Delta state finances but Uduaghan's looting of the treasury is worst "Because Ibori did certain things but Uduaghan is doing nothing so financially they have flinched the state. Look at what is happening in London , some of these money laundry cases in London , Uduaghan signed some of those documents when he was SSG. We have some of this information so you don't dare us. We pursue Ibori to Dubai ; this time around Uduaghan will be driven from the state. For the past eleven years our beloved state, Delta state has suffered stunted growth, arrested political and social-economic development, defamation of democracy. Mis-management of our resources and funds, capture of government house by one family, decay of infrastructure and poor implementation of budget and mass greed and corruption".
According to Dr. Tosanwumi the state which is owning a lot of money currently has red account in and out and swore that all those who have in one way or the other liquidated the state treasury will be brought to book. "I am happy to say today that we the Elders forum we have succeeded in pushing Ibori into Dubai , because we felt that he was not in position to help us. Even his cousin Uduaghan has done worst than Ibori because he has ruled the state recklessly. We have earned over one thousand billion naira in this state in the last eleven years. Many states have not earned up to four hundred billion naira so we are earning twice in Delta State more than many states that is one. Ibori used our forty four billion naira fraudulently; I can name other avenues where he has used our money fraudulently. Have any one been told of any contract sum in Delta State , this dualisation they are doing, do you know the contract sum? So we are in total darkness to the amount of money been expended in Delta State . How much are we earning but we know. We are owning Oceanic Bank a huge amount of money which I cannot put a figure to it now but because of all this we have been getting peanut in the state because our money is been deducted as source because of the debt owning the bank".
While criticizing the recent establishment of four polytechnics across the state by governor Uduaghan, Dr. Tosanwumi said nemesis in no distance time shall catch up with the governor who has turned the state to a private and personal estate. That is just a gimmick. The existing ones on ground already he can not even run them properly. "Look at existing ones all over the places; they are more or less gloried secondary schools, and mushroom institutions. Show me one housing estate Uduaghan has commission in Delta State , he went to commission step down, what's nonsense. Well as far I am concern, we know Uduaghan will do all things possible to get the PDP ticket and he thinks that the ticket is in the hands of Mr. President, few weeks ago he brought in Mr. President's wife to do what? So, all this are all mere politics he is playing. David Mark came to Warri, Bankole came too so my brother listen, Uduaghan is behaving like a rat in a cage. He is very worried of what he can grab in PDP but I can assure you somebody else from Isoko the same Delta South senatorial district in the person of Rear Admiral John Kpokpogri is carrying the ticket".
Dr. Tosanwumi said it's the turn of Isoko to produce the next governor of the state come 2011 and Kpokpogri is most credible, experienced and sellable candidate for the position. "Delta South senatorial district which has three ethnic groups can not be cajoled by Uduaghan and his cohorts, the remaining four years in the eight years of the turn of Delta South must be completed by Kpokpogri who is from Isoko ethnic group that made up the Delta South. Kpokpogri is the messiah who can emancipate the state. Rear Admiral Kpokpogri is the man that will bring about this change, he is tested, disciplined, courageous, level headed, experienced, original, clean, steadfast and humble" he said.
|
Article source