Oceanic Turns 20, Thanks Customers, Shareholders, Staff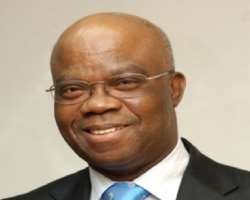 PHOTO: OCEANIC BANK GROUP MANAGING DIRECTOR, MR. JOHN ABOH.
San Francisco, June 16, (THEWILL) - Oceanic Bank International plc has commended its customers and shareholders for their patronage and confidence in the brand as it celebrates its 20th anniversary.
The Bank commenced business on June 12, 1990 and was listed on the Nigerian Stock Exchange (NSE) on June 25, 2004.
Oceanic Bank's Group Managing Director/Chief Executive Officer, John Aboh, said the Bank had over the years become known as a caring and friendly bank that is committed to supporting the nation's economic development through efficient banking services.
Aboh attributed the Bank's success to its customers and shareholders, adding that their support had provided the foundation upon which the Bank is repositioning for superior performance and better returns on investments for all stakeholders.
"I wish to express my profound gratitude to our customers and shareholders as well as all our staff for their unflinching loyalty and patronage these past 20 years. From every indication, we are making progress with our resolve to reposition Oceanic Bank and ensure value creation as well as better returns for our customers, shareholders, staff and other stakeholders."
The Bank's management said that as Oceanic enters its third decade, it would continue to place high premium on service excellence in order to delight its customers and Oceanic apart from the competition. To achieve this, the Bank has since launched a 24-Hour world class Customer Care Center to handle all customer enquiries.
Aboh added that the Bank had also embarked on strategic and targeted training and re-orientation programs for staff to promote effective customer service, professionalism, and optimal performance. "I am confident that we have a unique group of resilient and resourceful staff that can transform Oceanic into a respected and profitable global player in the financial services sector."
The Oceanic Bank MD assured customers and shareholders of a bright future for the Bank, stressing that Oceanic would maintain its commitment to best practices and good corporate governance.