Police, Muslims Trade Accusations On Commercial Motorcycle Ban Killings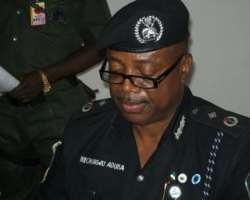 PHOTO: PLATEAU STATE POLICE COMMISSIONER, MR IKECHUKWU ADUBA.

JOS, June 17, (THEWILL) - The Plateau State police has responded to allegations that it shot and killed ten people during the clampdown on commercial motorcycle operators in the state saying it only shot to defend itself.
Ten people were alleged to have been shot by the police according to the Muslim Ulama Elders' Council in Plateau State. The Ulamas had in the petition also alleged that police shot sporadically at the Jos Central Mosque.
But the Plateau Police Commissioner, Mr. Ikechukwu Aduba denied targeting a particular religious group during the clampdown. He said the law was enforced in all parts of Jos irrespective of the dominant religion of the people resident in those places.
"The policemen found themselves in a desperate situation wherein the security of lives and properties were under threat and endangered by the rampaging hoodlums and had to defend themselves," he said.
He also confirmed that the palace of the Gbong Gwom Jos was torched during the crisis while explaining that the police also shot to give covering to firemen of the Plateau State Fire Service who were putting out the fire at the Gbong Gwom Jos' Palace and other places.
He added that "In the course of these onslaughts, a police Corporal was stabbed severally on the head and stomach by the rampaging hoodlums and finally gave up the ghost 24 hours later at the Plateau State Special Hospital, while four members of the civil defence corps who were attacked suffered several degrees of injuries."
The commissioner said the police is out to ensure peace and maintain law and order.
"For the records, we state, that the police is only part and parcel of the Plateau State Traffic Management Task Force created under the recently passed prohibition law banning commercial motorcycle within greater Jos Master Plan and under the Chairmanship of Plateau State Commissioner for Works and Transport, Solomon Zang.
"We therefore see the complaint of extra judicial killing of innocent Muslims and attack on the Central Mosque by mobile police men as unnecessary way of whipping up sentiments as the police force had at all times being at the vanguard of the ongoing peace process," he stated.
He said religious leaders should teach their followers the importance of peaceful coexistence.
Spokesman of the Muslims, Mr. Sani Mudi said the statement of the police is contradictory, as the police cannot claim not to have killed anybody only for it to turn round and say they shot to defend themselves. He also reminded the police commissioner that the AIG in charge of Plateau had disclaimed reports that the Gbong Gwom palace was torched saying if that is the case then which fire were the firemen putting out that the police was giving them covering fire as claimed by the commissioner?