Court Refuses Suspects Of Jos Crises Bail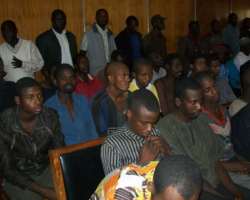 PHOTO: SUSPECTS ARRESTED DURING THE VARIOUS RELIGIOUS DISTURBANCES IN JOS INSIDE THE COURTROOM TODAY.

JOS, June 16, (THEWILL) - The Federal High Court sitting in Jos this morning, refused to grant bail to the 169 suspects arrested and charged with acts of terrorism and unlawful possession of fire arms in the state in the wake of the crises that engulfed the state recently.
Hearing for the bail application on behalf of the suspects had been concluded with the state opposing the bail application while the counsels to the suspects arguing in its favour when the judge, Jusitce Binta Bala Aliyu ruled that the court could not grant the 169 suspects bail.
She said rather than grant them bail, the court will ensure the suspects get accelerated hearing on the their respective cases.
"The court has refused to admit the accused persons bail applications but rather it will give accelerated hearing on all the cases, as it is better to ensure that all the cases were treated with speed instead of granting bail in order to do justice," Justice Aliyu ruled.
The presiding judge however added that if the prosecutors delay in the prosecution of the suspects the court would on its own consider the issue of bail.
At the conclusion of the matter, Justice Aliyu ordered that all the accused persons be remanded in the prison custody pending the determination of their cases.
The suspects were arrested between January when fresh crisis broke out in Jos and May, this year, in the isolated cases of violence.