Governor Fulfills Promise To Civil Servant Who Returned N53 Million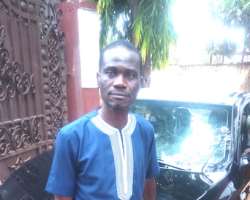 Delta State Governor, Ifeanyi Okowa has fulfilled his promise to reward a civil servant and chairman, Nigerian Civil Service Union, Delta State Chapter, Comrade Benson Efeitor with a brand new Salon Car for returning the sum of N53 million that was mistakenly paid into his account by the Office of the State Accountant General.
Governor Okowa had during the 2019 May Day Celebration at Saint Patrick College, Asaba made the promise, saying that Comrade Efeitor had displayed the hallmark of a good Nigerian worker that was worthy of recognition.
The governor said "Honesty pays. I believe that that sum of money is very tempting but he decided to stay on the side of intergrity. May God bless you".
Chairman, Nigerian Civil Service Union, Delta State Chapter, Comrade Benson Efeitor, with his brand new Salon car, shortly after receiving it from the SSG Festus Ovie Agas, in Asaba.
Barely twenty four hours after the promise, the civil servant, Comrade Efeitor, was invited to the Office of the Secretary to the State Government (SSG), Asaba, where he was presented a brand new GAC Salon Car.
At the brief ceremony, Governor Okowa represented by the SSG, Rt Hon Ovie Festus Agas, said the civil servant had showed that in Delta State, there are people of good and exemplanary character.
He called on all Nigerians to emulate the good example set by Comrade Efeitor.
Special Adviser to Governor Okowa on Labour and Servicom, Comrade Mike Okeme, commended the governor for fulfilling his promise, and urged all civil servants to learn from the gesture and be hardworking.
''If you do good, you get a reward. This is a product of trust worthiness that has come to bear. I will want us to emulate him. Let us be steadfast in what we do'', Okeme admonished.
The civil servant, Comrade Benson Efeitor who was visibly excited said he has the fear of God to always do what is right at all times.
He said as soon as he got the alert of N53 million and some naira, he was shocked since he was not expecting such big sum of money.
Comrade Efeitor stated further that he immediately put a phone call across to the SA Labour,Comrade Mike Okeme ,who urged him to call the Accountant General and had to return the money through an account number sent to him by the AG.
'' When I got alert of that money fifty three million naira and some fraction, I knew I was not expecting that money. Even my retirement money is not up to that if government retires me. The first thing I did was to call SA Labour. I said…see O , the state government had paid the money that did not belong to me into my account. He said I should call the Accountant General (AG) immediately, which I did. The AG thanked me immensely and directed somebody to me who sent the government account number which I paid the money into'' Efeitor narrated.