May Day: Borno NLC Urges Govt to Compensate Families of Slain Civil Servants, Pay N30,000 New Minimum Wage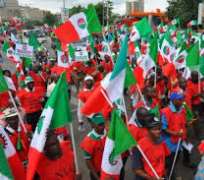 The State Chairman, Nigeria Labour Congress (NLC), Borno State Council, Comrade Bulama Abiso, Wednesday called on the Borno state government as a matter of great importance to pay compensation to the families of civil servants killed by Boko Haram insurgents in the past 10 years of the Insurgency.
He also appealed to Governor Kashim Shettima not to hand over the liabilities of N21 billion outstanding entitlements of gratuities and pensions owed civil servants and the retirees to his successor, Professor Babagana Umara Zulum.
Abiso who stated this during the May Day rally in Maiduguri, regretted that over 800 civil servants were killed during the Boko haram crisis, pointing out that, the families of the slain workers have been living in pains, agony and poverty as compensation had not been paid to them.
The Chairman added that out of the 800 workers that were recorded killed, 500 workers were primary school teachers, 200 were local government workers/employees while the remaining 100 workers were health and medical workers.
He also called on the state government to expidite efforts in the implementation of the new N30,000 minimum wage to local government workers while calling on the state government to employ more workers to address unemployment and reduce Boko Haram crisis.