Imo Deputy Governor Salutes Nigerian Workers - Commends Federal Government For Signing New Minimum Wage
Congratulates Imo Nlc Chairman On Reelection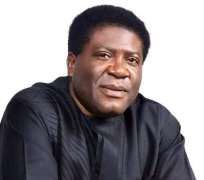 The Deputy Governor of Imo State, Prince Eze Madumere, yesterday, joined other well meaning Nigerians to celebrate Nigerian workers on International May Day for their doggedness, determination and resilience in ensuring continual progress in the national socioeconomic life.
The Deputy Governor's remark was contained in a press release issued by his Special Assistant on Media.
According to the release on indispensability of workers in the development of any State or country, Madumere posited that workers are the life wire of any economy in the world.
He charged workers to do more and bring to bear their creativity in the present effort of President Mohammadu Buhari effort to achieve a more self reliant independent nation. He stressed that this can only be achieved with the cooporation of the workers.
He commended Buhari led administration for its cooperation in signing into law a new national minimum wage, which serves as a motivation to workers.
According to the release, Madumere extolled 2019 theme for the celebration - "Uniting Workers for Social and Economic Advancement". He said that uniting workers for the purposes of socioeconomic is an approach to draw out the best from workers since a divided house can only make a broken and a whittled-down force against the present challenges. He said that this can be achieved through motivation and protection of workers rights and privileges.
The number two citizen of the State also congratulated Comrade Austin Chilakpo on his reelection as the Chairman of Nigerian Labour Congress, Imo State chapter, describing it as well deserving.
He commended other aspirants of the Labour Union for conducting themselves with the highest level of decorum, urging them to rally round the Chilakpo to achieve a better motivated work force that will add value to the socioeconomic status of the State.