WE ARE FIRST OFFENDERS, BAG SNATCHERS TELL POLICE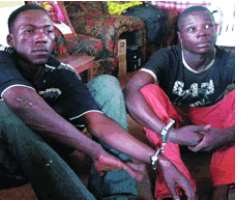 Suspect
Two young men, arrested for snatching bags, while operating on a motorcycle, have blamed the prevailing economic crunch for their action. They, however, pleaded with the police to forgive them, with a promise to stay off crime.
Monday Ibe and Obinna Nwadike, were alleged to have snatched cellophane bags from a woman at Sango-Elewure area of lbadan, Oyo State capital, where she was buying some household items.
Ibe did the snatching, while his partner, Nwadike, rode their get-away bike.
Police sources told Daily Sun that the suspect walked down by the victim's side andgrabbed the bags, unknown to them that a man was watching them.
Immediately the bag was snatched and the suspects sped off, the man pursued them.
They were arrested at Oke Ado area, some kilometres to where the alleged crime was committed.
Both suspects, who are being detained at Iyaganku Central police station, confessed committing the crime, but blamed their action on hard times. Nwadike, who claimed to have arrived the state about four days earlier, said after finishing primary education in Imo State in 2003, he started molding blocks.
He added that after doing his job for a while, he raised some money to buy a motorcycle, which he said, was used for commercial purpose. 'But Ohakim ( the state govenor) say make we no do okada again. !f we do am, police go catch us,' he said. The suspect said it was the state government's new policy that forced him to abandon the trade and joined his friend in Ile Ife, Osun State.
His friend, according to him, had assured him that they would be selling wares in Ife, but the hope vanished when it dawned on him that the assurance was vague, as his friend did not even have a place of abode in the town.
Nwadike, however, had been in Ife since his early years. He said his elder brother, who sold electronics brought him to Ile Ife and later took him back to Imo State, when he wanted to reIocate to Lagos, for his business.
'Na condition carry me come. The time wey my father die, my mother just dey village, im no dey do anything. My senior brother wey dey live for Ife before bring me come Ife. When he carry me reach Ife, he carry me go back village again. The time I come see this my friend na in we come Ibadan on Monday. I come see one woman wey dey carry nylon bag I come snatch am,' Ibe narrated in pidgin English.
Claiming to be first-time offenders, the duo insisted it was hunger that drove them into crime and begged the police to set them free. 'I never snatch bag before. I no go do am again. Make the police, please forgive me, ' Ibe supplicated.
But, police said the suspects' claims flew in face of facts, as evidence against them suggested that they had been at the game for sometime. For instance, a metal item, believed to be a 'master key', capable of opening all kinds of locks, was found on them.
However, Ibe made light of this, saying it was only capable of unscrewing nuts and cassettes insisting:' I nefa use am open motor before.' Speaking for the Commissioner of Police (CP), Mr. Adisa Bolanta, Mr, Teslim Ogunmefun, the Divisional Police Officer (DPO) for Iyaganku division, said the suspects were arrested through the efforts of members of the public.'
He said apart from putting in place good security measures to curb crimes in the state, the CP had made co-operation with the members of the public in the fight against crime, a priority. He advised residents of the state to heed the advice of the state command on the need to be careful with their property, especially in the public.