I'M NOT AN ASSASSIN, I ONLY SEND THREAT MESSAGES – SUSPECT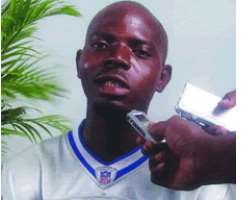 Suspect
It was end of the road for a man, who specialized in sending text messages to people, asking them to pay a ransom into a bank account or be killed. He has been arrested by the police. The suspect, simple identified as Ehi is said to be telling detectives at the State Criminal Investigation Department (SCID) Panti, Yaba, Lagos, how he got involved in the illegal act.
Ehi, who had succeeded in sending many threat messages to people met his waterloo after he sent a text message to the mother of a 400 level undergraduate, threatening to assassinate her son if she failed to pay N100, 000 into a bank account.
Part of the text message reads: 'We are members of the new black axe movement, University of Lagos (UNILAG). We are watching the modus operandi of your son. We know all his movements in the school. We will have no option than to eliminate him by 12.00 p.m, before Tuesday.'
The frightened woman contacted some of her friends who advised her to report to the police. She heeded the advice and reported to policemen who advised her to pay the money into an account. It was when the owner of the account came to withdraw some money from his account that he was nabbed by the police.
Speaking with Daily Sun, the 24-year-old suspect said he was not the originator of the text message. 'It was composed and sent by my friend, Henry. I told him I needed some money to travel abroad for my studies and he asked me if I knew anyone who could pay some money if we threatened to kill his or her child. So, that was how I gave the woman's name,' he said.
He said he knew the woman was capable of paying the ransom. He said: 'But I wonder why she goofed because she loved her son too much and she has the money. Moreso, I remember when she received similar threat text message last year, she wanted to pay before those threatening her chickened out.'
On the rightful owner of the bank account, he said: 'The account belonged to my landlord's son. I lied to him that my brother was going to send some money to me and that I had no bank account. He innocently assisted me. It was while he went to withdraw some money from the account that policemen arrested him.'
On why he sent the threat message to a woman from his town. He said: 'I needed money to travel to Spain for further studies. I had no money for international passport. So, I told my friend, Henry, who told me that if I put fears into the woman, by saying that we were monitoring her son's movement, she would pay up.
'I have begged the woman and her son to forgive me. I did not mean to assassinate him. I only needed some money. I am sorry, very sorry indeed.' The Police spokesman, Mr. Frank Mba, said the owner of the bank account had been released as he was innocent. He said the suspect did not mean to kill the student but was sending threat text messages to cajole the victims to pay the ransom he was demanding.
He enjoined members of the public to report similar case to the police.