CBN INTERVENTION REMOVED ME FROM MY JOB, BUT IT IS TIMELY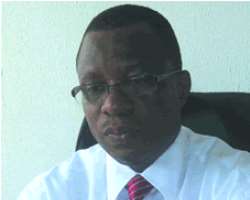 Ano Anyanwu
As the Central Bank of Nigeria's (CBN) reform in the banking industry entered advanced stages, stakeholders are beginning to see the genuineness and timeliness of the initiative, even as confidence and stability is rapidly returning to the financial system. A former banker, Mr. Ano Anyanwu, who lost his appointment with Spring Bank as a result of the reform process, says:
''Professionally speaking, the intervention is necessary, even though I believed it could have been handled differently.'' In this interview, Ano assessed the process that has brought banking in Nigeria to where it is today, life outside banking, community development and other issues.
A 1984 graduate of statistics from the University of Nigeria, Nsukka, Mr. Ano Anyanwu, with a federal government scholarship, graduated with Second Class degree in Upper Division. After his mandatory Youth Service in Bauchi State, he joined a firm of chartered accountants known as Deloit Adetonor Isichei and Co. Ano qualified as a chartered accountant in 1989 and moved to Ecobank Nigeria Plc. the same year, rising to the position of deputy manager.
His banking career took him to the defunct Citizens International Bank and later, Spring Bank Nigeria Plc., where he served as executive director in charge of the bank's South-East and South-South operations, until October 2009 when the Central Bank of Nigeria (CBN) dissolved the board of the bank.
Excerpts:
Banking metamorphoses between 1989 and 2010
Banking has undergone a lot of metamorphoses between 1989, when I was in active service and now. The guiding Act of banking profession then was the Banking Decree of 1968. It was not changed until the Banks and other Financial Institutions Act of 1995. Between 1989 and 1995, the number of banks in Nigeria increased to about 150 from just the 12 we had then.
In those days bankers were very conservative. Today they are more aggressive. They were more respected then but these days, we are thought of as if we are thieves. It's not every one labelled a thief that is a thief. In the past, banks had smaller capital base in the region of N5 million, today we are talking about N25 billion. However, the Gross Domestic Product has increased from what it was then to what it is today.
It then means that what bankers are doing now is much more technical and sophisticated than what they used to do. There has been a tremendous explosion in banking activities, which was not there in the past. For example, in 1989 there were only four branches of banks in Mbaise, Imo State. Today there are at least ten branches of various banks in the town. At a place called Ahiara junction, there is Intercontinental, Oceanic, Bank PHB, Fin Bank, and there is UBA. Within a short distant, there is also Union Bank and First Bank.
Again, the naira volumes have increased astronomically. When you look at the difference between N5 million and N25 billion, you know that a lot of changes have taken place in banking business. Another thing we have to reckon with is that it was the banks that created the technology revolution we have in Nigeria. The first set of organisations that began to use Information Technology (IT) in such a way that it began to impact on the common man are the banks.
The defunct Societe Generale Bank was the pioneer organisation in the use of IT. Another bank called Nigeria International Bank (NIB) was the first bank that had online interlinked branches. It was a bank that served the interest of big American companies in Nigeria. But it was Diamond Bank that took the IT platform to the public domain with Diamond integrated banking system. This came after Citizens Bank had linked up its head office on Victoria Island with branches in Onitsha and Kano. Based on this IT revolution, my desire is that every graduate must have a Laptop hooked on to the Internet.
In the past, the major source of income to banks was Foreign Exchange arbitraging. Because of the rapid devaluation of the Naira, business people engaged in securing banking licence for about N5 million or N10 million and using same to bid for foreign Exchange from CBN. Any amount they are able to secure, they sell at the black market and made huge amounts of money in the differential.
There was a boom in the licensing of banks, and businessmen were in competition with bankers. But a banking crisis was created when the Federal Government came up with a policy that all government deposits be moved to the Central Bank. In Nigeria, government controls almost 99 per cent of everything. So, if you move all government accounts back to the Central Bank, it means that the banks that could have lent money out, based on the volume of funds they are having, have nothing left to lend out. The banks make credit based on the total pool of deposits with them.
Another crisis the banking industry found itself in was the one created by the massive withdrawal of funds during the June 12 crisis. All these created a serious credit squeeze. Government is always a major depositor in the banks. For instance, the N620 billion injected into the rescued banks are deposits, however you look at it. Again, government agencies have their recurrent expenditure funds domiciled in the banks. That is why government massive withdrawals created a crisis.