AC OR NO AC, FASHOLA WILL DO SECOND TERM – CLERIC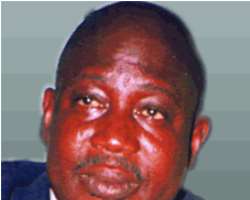 Olugbenro
The chairman, Lovers of Raji Fashola (LORAF), a political pressure group, Bishop Abiodun Olugbenro, has said that there is no alternative to Lagos State governor, Mr. Raji Fashola (SAN) in next year's election.
Olugbenro told Daily Sun recently in Lagos that Fashola has done so well for the state, so much that even the blind can attest to it.
He also bared his mind on electoral reform and why President Goodluck Jonathan should not contest next year's election.
Excerpts:
Fashola's strides
The development in Lagos has been slow for many years. And we have been agitating until this man came. The man has encouraged the youth, encouraged people like us that there is hope for us. Lagos State is like Nigeria itself. So, we need rapid development here. That is why I have been supporting him.
Christians should get involved in politics
That is a very good question. When I was director of political affairs for PFN in Lagos State, we discovered that in the civil service we have 69 per cent who are Muslims. If you go to the local government, you will discover that we have 42 per cent who are Muslims. Even if you look at the world map, when they are writing religion, they will still say that the dominant religion in Lagos State is Christian. What I am saying is that the Muslims are not to be blamed. It is the attitude of the Christians. Look at the Bible, people like Daniel; the Holy Book tells us he reigned with four regimes. In the country today, there are some policies Christians are crying that they don't favour them. But who is to be blamed. The Christian should be blamed.
Politics is not a dirty game. It is the participants that are dirty. Politics is a good game. Everybody needs power. You don't even know that even in the church, you need power. Even in your home, you play politics. So, we need to use this opportunity to sensitize the society that your religion has nothing to do with politics. If a righteous man rules, the nation will be better for it. People will be happy.
That is the reason people like us cannot stay behind and watch policies that will destroy what we believe in. No way. I am telling you that I am encouraging every Christian to participate in politics. They cannot sit down and be complaining. Things are not working. If we are not there, we cannot correct things. I am using this medium to tell all the Christian leaders who have been condemning his policies to change their views and face the reality on the ground that everybody needs power.
Allegation of financial impropriety against Fashola
When I was in London, I was asked why I led that rally against the petitioners to the House of Assembly and to the Governor's Office. For God's sake, this is the first man in Lagos State after Jakande that will show us good governance, dividends of democracy. Even a blind man in Lagos who has been walking on the main road before will tell you that things have changed. Look at the beautification everywhere.
Teachers are being paid promptly. Look at the pensioners they are happy. Look at the structures that are on ground within two years. All what you heard that time is politics. Let them screen the man. I am telling the truth. That man is clean. He has performed wonderfully.
If there is something we should be thanking God in Lagos State is for Tinubu giving us the man that can do the job.
Let me tell those who are saying that Fashola should not go for second term, we are the ones that proved to them that you don't throw the baby away with the bath water. Because Fashola has registered his name in the heart of lagosains. We need to tell those people in the Assembly that we put them there. And we have gotten a man that is working. If any of them has ambition let that ambition come after Fashola's second term. There is no vacancy in Alausa as of today. He is going for second term. We don't want anybody to spoil the job he has been doing.
Let me tell the difference between Fashola and the other regimes. He is the first man that is developing the entire state simultaneously. All the leaders we have had before, if a project is going on in Badagry, it may not be going on in Epe. If they are doing housing, they will not be touching other things. But this man, everything is going on simultaneously.
People always ask me has this man given you anything?
You are on the streets for him; you are on television for him. I say listen, if we don't encourage this man now, we will be failing our generation. Somebody said after Fashola's first term, what next? I say, he is already an institution, and we are moving him up. Because, go to any state in Nigeria, as of today everybody is saying, go to Lagos.
I am telling you that Fashola has left a legacy now. A very powerful legacy, that if anybody wants to be governor in any state of Nigeria, if you are not ready to perform, they will flush you out.
AC or no AC, Fashola will do second term
Listen to me; is the AC the only party in the world? Let me tell you, even AC cannot joke with Fashola. This is a man everybody loves. If AC messes up and they don't pick Fashola, any party that picks Fashola will win. I am telling you authoritatively. Forget about any gimmick, forget any political game, in this Lagos, and there is no alternative to Fashola. I am telling you the truth. Let me tell you the legacy Fashola has given to us in Lagos, whoever wants to lead Lagos again, need more prayers, more energies, because what is on the ground, a nonentity cannot just come and rule Lagos.
My interest in Fashola
This is my state. I am a stakeholder. I must know what is going on in my state. I must be interested in who governs me. Two, I am an apostle of honesty, righteousness and holiness. If we see all those qualities in a man, we need to promote that man. So, another thing I want you to know is that I am thinking of my children tomorrow. I am thinking about the future generation. It is not somebody who is going to give me a tin of rice. After I finish that tin of rice, what will I be eating?
We love this man. We want to encourage him. Not giving him a bad name like the Assembly did the other time. But we thank God that with our shout, they have sheathed the sword. You see, if the Assembly had continued, remember we are in court at Ikorodu, even if the court had failed, all those who want to impeach Fashola, we had planned to go to their respective local governments to mobilize people to bring them back home.
In some local governments like Epe where the speaker comes from, we have more than 10,000 signatures. We had started gathering signatures from all the local governments, to say that what you ask your Assembly man to go and do is not what he is doing. The man who wants to fix Lagos is what he is after. But we thank God that apart from the court, they too listened to the voice of reason and sheathed the sword. So, I am totally for this man.
Electoral reform
It is a wonderful thing that would happen. That is the only area Yar'Adua failed. Election in Nigeria is no more based on people who voted. It is based on who do you want?. And they manipulate figures, we are tired of that. That is why we have not seen a better election than that of June 12, 1993. The last INEC chairman failed totally. Even the government that he brought in, accepted that the man messed up.
Right now we need electoral reform to give Nigeria a new image. A new name. Because we are backward in terms of organizing election. Those were part of the reasons why Obama did not come to Nigeria. He went to Ghana where they could do hand-over of government peacefully. Let me tell you the truth. With that reform, many people will be encouraged to participate in politics. So, the reform is necessary.
President Goodluck Jonathan should not contest the 2011 election
I am not saying that Jonathan should not contest. But because of the problem of election in Nigeria, we need somebody who will be fair and impartial. Somebody who will give us a leader that Nigeria deserves. Jonathan can come back next time, if he could give Nigeria a credible election. If there is something, he wants to give to Nigeria, let him give us a president, later like Obasanjo, he can return.
If Jonathan could give us a credible election, fix the right people in the right places and step aside. After some years, he can raise his hand and say he wants to contest. He has his right. He is qualified. He is capable. And he is a citizen of Nigeria. But if I am in his position, I will not contest this time around. I will only pursue that agenda of giving Nigeria a credible leader that everybody would be talking about.