The Enoidem Whose Integrity Defies Weather Conditions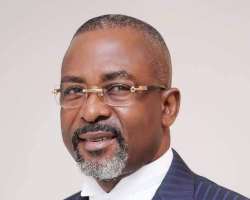 Barr. Emmanuel Moses Enoidem
The victory of the PDP in Akwa Ibom State in the just concluded election cannot be attributed to any one person except God, but God used people as instruments to make the election miracle happen. Barr. Emmanuel Moses Enoidem of 'block votes' fame is a household name, as far as the just concluded election and Ikot Ekpene Senatorial District is concerned. Block votes (for the PDP) because APC in his unit and ward had ZERO VOTE. Zero!
It was generally believed that Enoidem would be the first to join his former boss, Senator Akpabio, who defected on August 8, 2018, to the All Progressives Congress (APC). So many stories were served for public consumption and digestion, one of such was a story with the headline 'Barr. Emmanuel Enoidem, don't suck Udom dry before you leave'. In fact, people were so certain that he was going to defect that they had begun to shop for a replacement to fill the gap of the National Legal Adviser of PDP. Surprisingly, Enoidem displayed a rare attribute of statesmanship.
It is often said that the hallmark of a good leader is where he stands in his time of discomfort, not where he stands in time of convenience. Enoidem was able to take a decision that many of those who found themselves in his shoe couldn't. Would we be wrong to say that not everyone who wears the shoe knows where it pinches? Or maybe they knew and took the shoe for granted, that it could 'pinch' deep enough to get them crippled. When he announced that his love and support for Senator Godswill Akpabio cannot override the love and commitment he has for the Akwa Ibom project, most people took it with a pinch of salt. In his words, "not only will I support my party, I will work hard to ensure that Governor Udom Emmanuel returns elected".
Enoidem like the uncommon defector, is an 'Annang' man, and hails from the same senatorial district with Akpabio, he was going to be a major beneficiary of the defection but he placed Akwa Ibom State first before his interest. The interest of Akwa Ibom State in the sense that, the last election was not about Udom Emmanuel but the liberation of the state. The only difference is that, Governor Udom Emmanuel was the rallying point for the for renaissance. A turning point that subsequent governors in Akwa Ibom would come to enjoy because Udom would likely not want to be a god and final dictator after his tenure.
In some of the interviews he had with journalists, the PDP national legal adviser recounted the number of times he had gone on his knees and told his former Boss not to defect, so as not to lose HIS OWN POSITION in the Senate, NOT ENOIDEM'S. That was RARE love and concern because Enoidem didn't wish to see him fail! "Before August 8, we had at least 20 meetings with Akpabio and even knelt down to beg him not to leave PDP, a party that had showered so much on him, to APC, a party that holds nothing in stock for him. We told him that we will not follow him if he defects."
It appears that his former Boss had imposed so much confidence on himself, as he said he can easily get his way in any party he finds himself. Enoidem mentioned that "we contributed our own money and gathered over 20,000 persons to receive Senator Akpabio and give him a return ticket to the Senate unopposed, under the platform of the PDP, only for him to tell us that the people will go with him no matter the platform. That was taking boastfulness to a high. The highest level of pride"..
In the build up to the just concluded elections, Enoidem admitted he was offered several millions of naira and was later threatened, persecuted, just to blackmail and intimidate him into withdrawing support for Governor Udom Emmanuel. As expected, if there was any iota of corruption or financial impropriety found on him, from all his years in public service. This would have been used strongly against him, by a man who is expected to have known this, the uncommon man.
Enoidem has made us understand that his support for Governor Udom Emmanuel was not just about the certainty of his winning at the polls, but a position that would ensure that he, Enoidem, was not at conflict with the unity of Akwa Ibom and the collective decision of Akwa Ibom people.
Integrity is a piece of cloth for Enoidem, a cloth he wears to stand his ground, to give value to politics, honesty and discountenance selfishness in leadership, despite the thorns under his feet and how they make him bleed. To him, he wants to leave a legacy for his children and mentees, that at a point when the unity and integrity of Akwa Ibom State was endangered, he did not waver as their father/mentor.
Barr. Enoidem took the campaigns very personal. He was seen campaigning for his party's candidates vigorously, it appeared as though he was seeking for an office, even though he had nothing personal to gain. Akpabio's defection meant he did not want his position at the Senate anymore and Enoidem couldn't have forced it on him. And that begs the question, why did Enoidem himself refuse the overtures to pick the PDP form and contest for the Senate? Simple; this could have probably stood against him, as the selfish motive for antagonizing the embattled Senator Akpabio. And so, as one of the leaders of the party in the state, Enoidem chose to support the emergence of Chris Ekpenyong, former deputy governor as his constituency's next senator. He went round also, leaving no stone unturned in ensuring that the Udom's Gospel penetrated every fabric of his senatorial district and Akwa Ibom generally. His messages resonated that 'Annangs' are not treacherous and also don't betray their in-laws.
Luckily for Governor Udom Emmanuel, his re-election was NOT only based on the sentiments that the last two Governors had served for eight years, far from it; in four years under Mr Emmanuel, virtually all Local Government areas in Akwa Ibom State have seen, felt and touched the dividends of GOOD governance in more than a way. As the state agent of the PDP, anyone at the INEC collation centre could sense the air of confidence around a man, who completely dwarfed his major counterpart, Bishop Sam Akpan of the APC, caught several times on the camera lenses, sulking and protesting.
Barr. Enoidem hails from Etim Ekpo local government area of Akwa Ibom State. In 1992, he climbed the ladder with two things in hand, politics and lecturing. He was appointed Legal Adviser of the Social Democratic Party (SDP), Etim Ekpo Chapter and an Assistant Lecturer in the University of Uyo. Barr. Enoidem was the Local Government Chairman of Etim Ekpo at quite a tender age. He also served as state Treasurer of the PDP between 2001 and 2007 and has since then been an active caucus member of his party. Fast-forward to when Godswill Akpabio was the governor of Akwa Ibom State, he served as Commissioner for Housing and Urban Renewal, from 2007 to 2013 and Commissioner for Special Duties from 2013 to 2015. A man in public service for three decades, with no dent , especially at a time the torchlight beam on opposing elements by the federal (anti this and that) agencies, was at an all time high, can comfortably keep his head high.
Indeed, Barr. Emmanuel Moses Enoidem is an rare statesman, who wears integrity, despite the weather condition he finds himself.
Miss Thomas, an indigene of Ibesikpo Asutan, writes from Afaha Itam,Itu, Akwa Ibom State._