Exodus—regular and irregular migration of ze people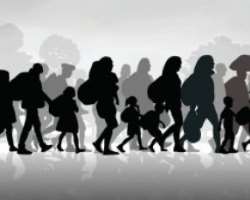 Let me start with this short story, as told me by a colleague—during the civil war in Nigeria, at one of the frontiers, neighboring villages bothering Nsukka would go in to take spoils of war.
On this particular day, several boxes were carted away from the village, and when they arrived back, as the boxes were to be opened. Voices started coming out of the boxes. The whole village ran away...By evening the village Dibia (native medicine man) came.
The whole village was behind watching. He spoke to the boxes, and the voices replied, and the Dibia told them that the gods of the village were we carted the boxes from were inside and annoyed. So we had to appease them and take the boxes to the border road.
The village got the sacrificial items and did as instructed. On getting to the border, they left the boxes, the villagers ran, the boxes moved into the bush on its accord.
In his classic book The Screwtape Letters, C.S. Lewis warned of two possible errors in thinking about demons. On one extreme is the refusal to believe in their existence. On the other extreme is the equally dangerous mistake to "feel an excessive and unhealthy interest in them." Which of these tendencies do we most see, reminds me of the subject matter of migration? Migration is like a demon; it's also an angel. What do we see on either side?
How many of us saw the screaming headlines the other day, "Nigerians heading to Canada" or that report of more than 50% of young Nigerians who are eager to leave Nigeria...Ooops did you miss the video that went viral of Nigerian trained Doctors that were being interviewed to leave the country to go practice in Saudi Arabia.
There was that story of a "practicing prostitute" allegedly Nigeria who was killed by her customer in Italy for not satisfying him. He went to report himself!
Well, the General Elections of 2019 have come and gone, and till 2023. There was no real conversation around migration, as a people or nation; we have no migration policy that states deliverables, a direction, needs, wants or benefits. Key discuss, including migration management, labour migration, irregular migration, return and reintegration, mobility and international protection is alien to our policy makers, stakeholders and gatekeepers.
It is in this light that one begs for conversation what started with the IOM Dialogue with Nigerian Editors and Heads of Media has to continue.
The International Organization for Migration (IOM), began operations in Nigeria in 2001 with the Assisted Voluntary Return and Reintegration (AVRR) programme in Lagos, one of the organization's global initiatives, which helps stranded migrants who wish to return home safely. Following a cooperation agreement with the government of Nigeria, IOM created the country mission in 2002.
Over the years, the Organization has expanded its range of activities in the country to include emergency response in the north-east region, migration health assessment, capacity building for government officials, integrated border management, among others, and off course various trainings, and capacity building for media professionals.
To contribute to the prevention of irregular migration and human trafficking, IOM is also currently implementing several awareness raising projects in Nigeria including the Aware Migrants project, funded by the Government of Italy, which is designed to promote behavioural change among potential migrants and their families and friends by helping potential migrants make safe and informed decisions about their migratory journey.
In 2017, there were 119,369 migrant arrivals by sea via the Central Mediterranean route, of which the majority were Nigerian (18,158). According to the Italian Ministry of Interior, this number dropped considerably in 2018 to 1,250 Nigerian arrivals to Europe via this route. Despite the decrease in arrivals, the Central Mediterranean route continues to be deadliest migratory worldwide with 1,314 deaths recorded in 2018 and 165 deaths recorded so far this year (as of 02 April).
What remains sad is that despite the best of efforts by Nigerian agencies like NAPTIP, Immigration activists, Media and Development practitioners, as a country we have abandoned our responsibility to citizens, in saving and protecting the lives of migrants and refugees, breaking the business model of smugglers and traffickers and providing legal pathways, while addressing the root causes of irregular migration and forced displacement
The above is seen or handled more of an EU's policy. While the consensus is that from Exodus there has been migration and it will not stop, the dangerous, unprotected, and exploitative forms of migration. Migration borne out of despair not aspiration must be checked.
Nigeria is a source, transit and destination country for women and children victims of sex trafficking and forced labour in the forms of prostitution, domestic servitude, begging and sometimes trafficking in human organs. The IOM has identified 749 victims of trafficking among the returnees, and more than 3,172 with vulnerabilities.
Adekunle Gold in his song ire sums my thoughts up...
The grass is greener on the other side
That's what I thought before I took the ride
I burned my bridges so I never look back
But if I had know the life I was
searching for is looking me right in the eye ooo
if I had know the life I was searching for was already my own oo
Ire bènilê ooo, (ire ayo)
Ire ire ire
ire ire ayo
Onpemi oo (Onpemi kin ma bo o)
Oni kin ma bo (ire o)
Oni ki ma bo
ire
Ire ire ire (ire ooo)
ire ire ayo
Onpemi oo (ire, ayo)
Oni kin ma bo (oni kin ma bo)
Oni ki ma bo (oni kin ma bo)
ire
The grass is greener when you water the ground
That's what I found when I took the ride
I realised the mountain I have been
climbing is nothing but standing oo
I didn't know I already had the answer
No I didn't know
For if I had know the life know (if I had know) the
life I was searching for was looking me right in the eye oo
If I had know the life I was searching for was already my own
Ire ire ire (ire o)
ire ire ayo
Onpemi oo (Onpemi o)
Oni kin ma bo (oni kin ma bo)
Oni ki ma bo (Oni kin ma bo)
ire
Ire ire ire (ire ooo)
ire ire ayo
Onpemi oo (its calling out to me dekunle it's calling out to me)
Oni kin ma bo (oni kin ma bo)
Oni ki ma bor (oni kin ma bo) (ire o)
ire
Ire ire oo ire ayo (distance chorus)
Onpemi kin ma bo (ire)
Edami shatokun fun Ese Mi
Jen pada sile
Majen sin won waye
Majen rin arin ra...
Alantere ooo
Ire she gudu meje
Oro shepete
Oro shepete
Ire Fi le poti o Fi ona roka
Kin ma bo (Ire)
Ire
To the Nigerian media, Ikechukwu Attah, Florence Kim, the IOM team, and all of us that love Nigeria, we can do more, we will do more, is the grass greener here or there, is migration a demon, or an angel, can our beloved Nigeria become the heaven we want, or are the gods so angry that no sacrifice can appease them—Only time will tell
Disclaimer:

"The views/contents expressed in this article are the sole responsibility of the author(s) and do not necessarily reflect those of The Nigerian Voice. The Nigerian Voice will not be responsible or liable for any inaccurate or incorrect statements contained in this article."